Last updated April 12, 2019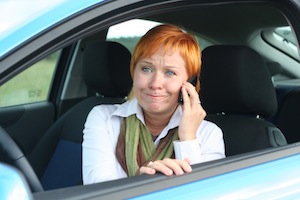 While federal regulators in the United States have begun making recommendations that all use of new and old cell phones should be banned for those behind the wheel of a motor vehicle, most experts agree that such a ban would be very difficult, if not almost impossible, to effectively enforce. Now, however, a new idea has arisen that could provide an alternative solution to the issue of driver distraction due to cell phones.
A system known as Cell Control will actually put a blocking screen up on the phone or drop a call once a vehicle is in motion. Cell Control can be plugged into the diagnostic plug of a motor vehicle, and it will work with software that has been installed onto selected kinds of cell phones.
The manufacturer of the system is hoping to be able to sell to firms that have large fleets of vehicles, as well to others such as parents of teenage drivers. "People do get in their cars," says the vice president of Cell Control, Chuck Cox. "They do use their phones. They do text. They email. They surf. "They 'Words with Friends' and 'Angry Birds' and the whole bit, all while driving and that's dangerous."
The cost of the Cell Control system is just $25 for the actual device itself, followed by a monthly payment of as little as $8 for as many as six cell phones.