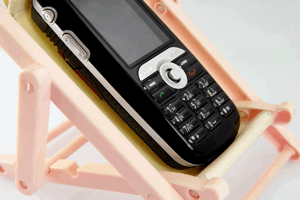 Roaming charges for those who take new or old cell phones with them to overseas countries are set to fall across the course of the next three years – at least in Western Europe. Many tourists who use their cell phones while on holidays come back to find a shockingly expensive bill waiting for them, but those fees could be slashed by up to 78 per cent if the plan that was proposed by the European Commission last week comes off. The Commission is proposing that cell phone roaming fees be capped at just 90 Euro cents by the 1st of July next year, falling to 70 Euro cents by the same date in 2013 and finally to 50 Euro cents the year after that.
The proposal, which was created by the commissioner for telecommunications, Neelie Kroes, will have to be approved by both the Council of Ministers and the European Parliament, something not likely to happen until at least next spring.
"I think this proposal will receive massive support in both the European Parliament and the Council of Ministers," notes European Parliament member Paul Rubig, who comes from Wels in Austria. "The roaming regulations have become a symbol of how the European Union can function in the interests of its citizens."
Consumer advocacy groups have tentatively supported the proposal but feel that the caps are still not going to be set low enough to inspire more competition.