Last updated April 12, 2019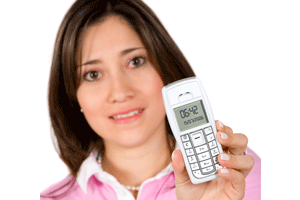 The cellfolio is a cell phone accessory created by busy mom Jamie James. The creation, which was over a year in the making, was her solution to the problem of carrying a smart-phone. Tired both of feeling disorganized and of seeing her eldest daughter have to stuff her pockets with her smart-phone, James patented a Velcro tab that adheres an Italian leather case to any new or old cell phone. The cellfolio keeps the device protected and secure, while also having a hook for keys, an easily scanned ID holder, and slots for money or credit cards.
The cellfolio allows people to be able to answer their cell phone without even having to remove it from the cellfolio. "Simplify your life with style," says James. In downtown Portsmouth recently, James was thrilled to see a stranger in Popover's Café making use of her creation. "I felt immense pride at seeing the cellfolio being used by someone who didn't know me," she admits. "I couldn't resist hugging her. It's moments like this that make that year of hard work worthwhile."
That may sound like an extreme reaction, but the mother of four and divorce attorney acknowledges that it may be because she had no idea what she was doing when she first began trying to bring the product to market. James acknowledges that it was a steep learning curve, but that she now has no regrets. "I'm one of those people if you say it can't be done, I will prove you wrong!" she says.