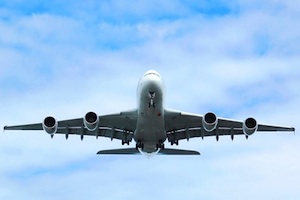 A Delta Air Lines flight that was bound for the United States had to make an emergency landing in Dublin on Monday because a passenger left an old cell phone plugged into a socket in a restroom on the aircraft, according to police and aviation authorities.
The Boeing 767-300, which had traveled from Istanbul, Turkey, was eventually cleared by Dublin Airport to continue on to the John F Kennedy airport in New York after it was determined that the suspected bomb was, in fact, just an unattended cell phone and charger. The pilot had requested an emergency landing and it arrived without incident in Dublin Airport, where it was diverted to an isolated corner on the runway, Lillian Cassin, a spokeswoman for the Irish Aviation Authority, says.
The Garda Siochana, the national police force of Ireland, boarded the plane and talked to the pilot about the suspected bomb, before asking any passenger who was missing a cell phone to come forward. It was revealed that the passenger had elected to use the restroom's sockets for shavers to recharge the phone and then left it there, wrapping it up in its charging cord. No one was arrested or hurt, and no other flights were affected by the incident.
There were as many as 208 passengers on the plane, as well as 11 members of the airplane crew, according to Delta spokesman Anthony Black.