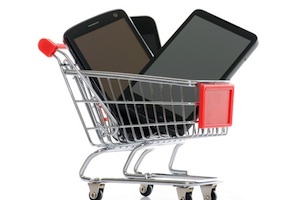 Two shopping malls in the United States have scrapped plans to track the movements of shoppers in its stores by their cell phone signals following the raising of privacy concerns by a US Senator over the weekend.
The Short Pump Town Center in Richmond VA and the Promenade Temecula in southern California kicked off a survey on Friday, which tracked the movements of shoppers using the signals from their new and old cell phones. The plan was to continue with the survey through the Christmas shopping period all the way to New Year's Day, but reversed their decision following a phone call from US Senator Charles Schumer's office.
Antennas had been set up in the shopping malls to anonymously track customers as they moved from store to store, with customers notified of the scheme and given the option to turn their cell phones off before entering if they did not want to be involved. The choice Schumer said was not good enough, believing that shoppers should have been given the option to take part rather than withdraw.
"A shopper's personal cell phone should not be used as a third party as a tracking device by retailers who are seeking to determine holiday shopping patterns," the New York Senator noted in a statement. "Personal cell phones are just that – personal. If retailers want to tap your phone to see what your shopping patterns are, they can ask you for your permission to do so."