Last updated April 12, 2019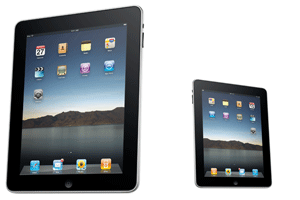 In the wake of the buzz around the new Google tablets featuring Android 3.0 OS, Apple has spoken up and said that it too has something new to show – the iPad 2 (or, as it has been officially nicknamed, the iPad Too!).
In an exclusive by Kara Swisher for AllThingsD, it is said that the unveiling will take place on March 2nd in San Francisco, most likely at the Yerba Buena Centre for the Arts. Of course, the usual people will be waiting in anticipation to see whether they are invited or not. It is also not clear as to whether Steve Jobs will be in attendance, although considering his health problems, my guess would be no. Although, Jobs was seen at an event sitting next to President Obama just last week.
The event is timed as a response to the various new tablets schedule for release, including the Samsung Galaxy 10.1 and the Motorola Xoom, both featuring Google Honeycomb, their latest release Android OS (3.0).
Also scheduled for release this year are the iPhone 5 and a new MacBook Pro.
While we will have to wait for the unveiling to know anything specific, it is expected that the iPad 2 will feature a thinner design with an improved display. As with the Android tablets, iPad 2 is also expected to be powered by a Qualcomm multimode chip and feature both GSM and CDMA, allowing it to run on networks around the world. Other expectations include a front-facing camera and support for Apple's FaceTime video chat.