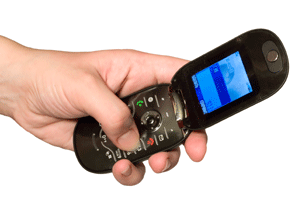 A Newton lawyer has come up with a novel way to try to get the younger generation to not use their cell phones while they are operating a motor vehicle in what could be described as a good old-fashioned bribe. Lawyer Corey Walker and his wife Beth have come up with a scheme to effectively pay young drivers to not use cell phones while they are driving. While students younger than eighteen have been legally banned from doing so since last year, what the law says and what people actually do are often two very different things, particularly when it comes to ingrained habits, but the Walkers think money could be the key to compliance, not legal threats or punishments.
"I've had a couple of clients who were in serious accidents where distracted driving – texting and cell phone use – were the cause," says Corey, who works at the Walker, Billingsley and Bair law firm. "We started brainstorming ways to prevent this beyond just ticketing. If we can train this generation of drivers to not do these things, we'll have much safer roads in the future."
As a result, students at Newton High School will be bribed with twenty five dollar iTunes gift card and one hundred dollar college scholarships if they agree to sign a pledge stating they will not use their cell phones whilst driving a motor vehicle.
Iowa State Patrol Captain Curt Henderson is one of many who think the Newton's are onto a winner. "I'm quite proud of the law firm for taking the initiative on this," Henderson notes. "It's really a good idea."