Last updated April 12, 2019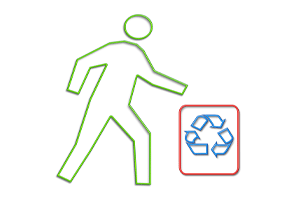 Residents of Cheshire are being encouraged to recycle electrical products, including old cell phones, in a bid to cut down on the number of such items ending up in landfills. The newspaper, The Middlewich Guardian, says that the Cheshire West and Chester Council is running a new scheme under the name of 'Don't Bin It, Bring It'. It hope this scheme will get households in the area to begin recycling their old electrical equipment, including used cell phones, on a more regular and consistent basis. The 'Don't Bin It, Bring It' campaign follows in the wake of an array of road shows, which have been staged by the local council. This was in a bid to better educate local residents and encourage them to hand in their old cell phones and other electrical goods so that they can be reused and recycled rather than end up as environmentally unfriendly garbage.
"The cabinet road shows were very well attended," says Councillor Rod Menlove, who is responsible for environmental services in Cheshire West and Chester. "My thanks go out to all Cheshire East residents who took the time to learn more about WEEE (Waste Electrical and Electronic Equipment) items and how simple it is to recycle them."
Jon Butler, who serves as the creative brand manager at Envirofone, says that he has noticed an upsurge in the recycling of used cell phones and other such items now that regulations concerning the disposal of Waste Electrical and Electronic Equipment are growing stronger.