Last updated April 12, 2019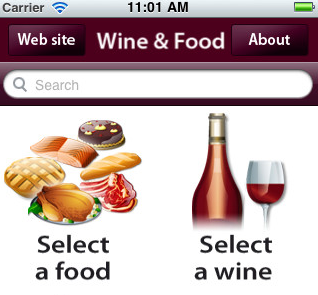 I think we can safely say that as Christmas grows ever closer to us, one main thing on people's minds is Christmas Day dinners, especially those that have to serve and tend to guests. However, when it comes down to what wine is best suited to your turkey, your beef, or your pork are you really in tune with matching them together?
Well fear not our festive friends as we have found just the right app for you, it's called the Wine & Food App and is available in the iTunes store for $1.99.
The app is designed particularly to help novices (yes, like me) chose the ideal choice of wine to harmonize with the food that is being served.
How Easy is it to Use?
You simply select the food that you are going to cook (ie meats, cheeses, pasta) and then you will see a complementary wine selection.
Not sure what you intend on cooking? Well the app will even make cooking suggestions based on the wine you have chosen.
I'm guessing i'm not the only one that will find this app very useful over the festive season, whether you are cooking for a large group of people or just a small family.
You can get the Wine and Food App from the Apple iTunes Store.