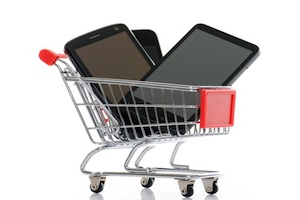 The times are rolling on and data only plans are starting to come out all over the place. There's lots of back and forth in regards to companies going with unlimited data, or whether they will allow you to buy data only without getting phone minutes with it. The traditional way of offering phone service is still fighting back and trying to keep around, but more and more it's look like data only may be the way of the future.
TMobile Unlimited Data
One company that's really embracing the digital future is Tmobile. They are offering an unlimited data plan for just 70 dollars that includes unlimited minute, text messaging and data without any throttling or overages. As for data only, you can go to 50 a month for 500 MB of data as well as the unlimited text and talk. So it's not quite data only yet, but the price is getting more down in the range of what a data only would be. And the unlimited data is a huge thing as well. They also have a 5GB cap data only plan for $30 as well.
Virgin Mobile "Unlimited" Plan
Virgin mobile offers a $35 plan that has 300 talk minutes added to it, but more importantly has an "unlimited" use plan which means that you can use data up to 2.5 GB per month, but then after that you will get throttled on data to something really insanely slow like 256 Kbps which is barely enough to use the Internet normally. But it allows them to say that you can use as much data as you want, and allows them to be technically true.
MetroPCS
MetroPCS has a $40 per month plan that bundles talk text and data at "unlimited" amounts. Though they have a 250MB limit until you get data throttled which is a tiny amount so if you want to go mostly for data only then you'll need to upgrade to their $50 per month plan that gives you a much saner 2.5GB of data for the month. This approach will really be a lot better for people who want data, but really want more of the unlimited other stuff more.
Other Ways to Save
Anyone looking for a data only plan is mostly doing it just to try and save as much money as possible. Fortunately, there are other ways to do this as well. For example, there's the LifeLine free phone plan that many third party providers are offering these days. It might seem strange when you first here about it, but it's actually totally legitimate for those who qualify. Basically, the government grants those who qualify the ability to work with a third party provider to get an allotment of free minutes and free text messages per month for those who have under 150% of the Federal Poverty Guidelines. It's possible to get cheaper Internet this way too, but at the very least you can get some extra text messages per month If you qualify so you don't' have to pay ridiculous rates for text messages.