We recently found out that an ever increasing amount of you visit SellCell.com via your cell. Because of this we've decided to optimize our site for mobile devises so you have a fantastic experience when you visit SellCell.com on your cell phone.
This is compatible with most cells such as the following-
iPhone
Android
Palm
Symbian
Blackberry
iPod
So go ahead and enjoy your experience at SellCell.com!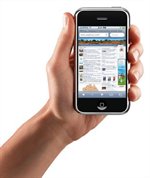 Don't forget to 'like' us on Facebook and follow us on Twitter if you're not already doing so. By following us you'll have the latest cell phone related news, information on how much cash you can receive for your old cell at SellCell.com and information on our latest competitions!