71.8% of UK consumers and 57.3% of US consumers will reduce Christmas spending in 2022
As Christmas looms on the horizon, many families are finding that their funds aren't going to stretch as far as usual. Christmas consumers are facing the holiday season amidst a cost-of-living crisis, and are tightening their belts as they struggle to make ends meet. The result is a drop in purchase intention across the traditional retail landscape.
SellCell surveyed 6000 consumers (3000 UK and 3000 US), to find out just how the catastrophic global cost-of-living crisis would affect them and their spending. With 94% (UK) and 92% (US) of consumers saying the cost-of-living crisis will adversely affect their finances, it makes sense that they will be looking to reduce outgoings during the festive period.
So how bad is the problem, and what does this mean for traditional retail, and the wider retail market? SellCell's survey data holds the answers. Let's take a look.
SellCell Survey Shows Consumers Will Cut Back for Christmas
SellCell's recent cost-of-living survey provided insight into whether the cost-of-living crisis is going to affect consumer finances, and how severely. The survey also identified, as Christmas approaches, how worried people are about budgeting at Christmas and if they plan to make cutbacks to their usual Christmas spending.
Consumers Concerned About Christmas Cost-of-Living Crisis
As traditional brick and mortar stores optimistically load their shelves with Christmas items it seems that feelings are a little less festive with the consumers on the other side of the cash register.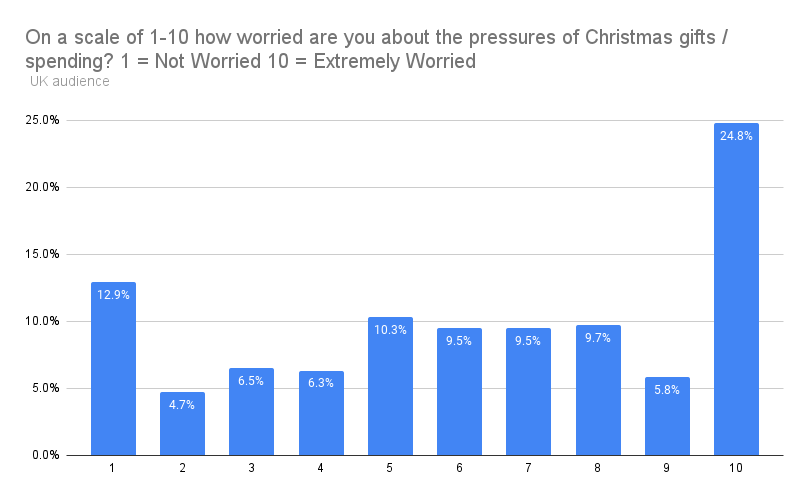 As the above data shows, 24.8% of the UK public are extremely worried about the pressures of spending their money on Christmas gifts. As the cost of energy (among many other things) sky-rockets, people are forced to direct more of their cash to paying gas and electricity bills, leaving less money available for buying gifts when Christmas rolls around.
In fact, with only 12.9% of consumers expressing no concern about the pressures of gift buying at Christmas, that leaves a huge 87.1% of consumers in the UK feeling some sense of trepidation, in some degree, as stores line up their Christmas wares and TV commercials push the Christmas message to breaking point.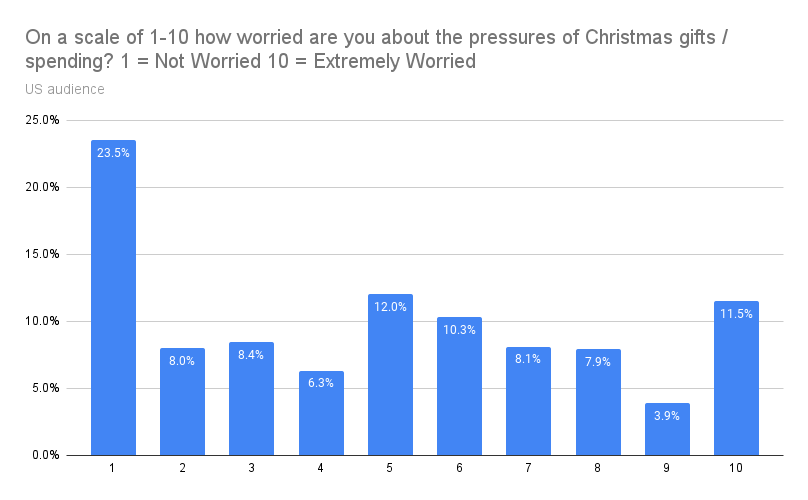 While 23.5% of US consumers remain unconcerned about Christmas gift buying, we still have 11.5% who are extremely worried about spending during the holiday season. While not as high a percentage as UK households, this should still raise concern.
Despite that seemingly positive 23.5% of unworried consumers, the remaining 76.5% are concerned. While the severity of their concern may vary, this is almost 3/4 of a population of about 330 million who aren't looking forward to buying gifts this time around, because of the strain on their finances the cost-of-living crisis has caused.
Christmas Cut-Backs at the Forefront of Consumer Intentions
Purchase intention among consumers will drop this Christmas. That is a given, as customers are diverting funds elsewhere while they cope with price hikes across the board. With everything from food to energy rapidly rising in price, it is the essentials that consumers are concentrating on first, with luxury goods, entertainment, and eating out very much low on the list of priorities.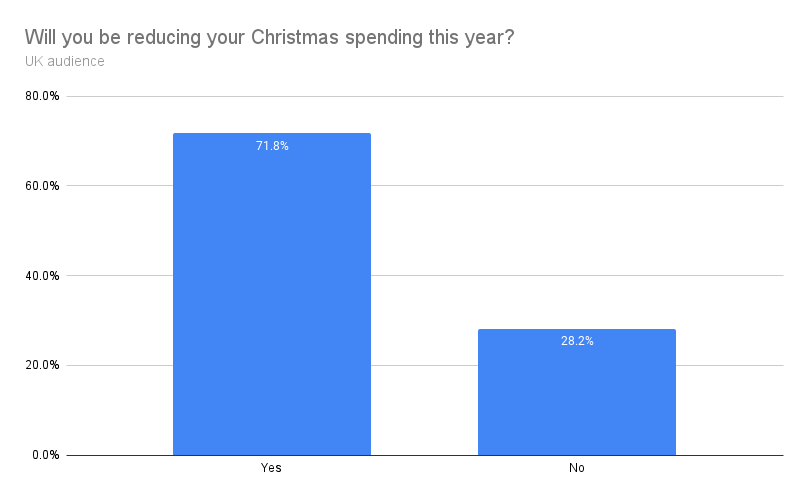 In a blow to traditional retailers, 71.8% of the UK public intends to cut back on Christmas spending in 2022. Sure, this leaves 28.2% whose spending won't change, but that huge percentage of cutbacks is bound to have an effect on high-street stores and any other brand peddling first-hand wares this Christmas, putting a dent in what would normally be a very profitable time of year for retailers.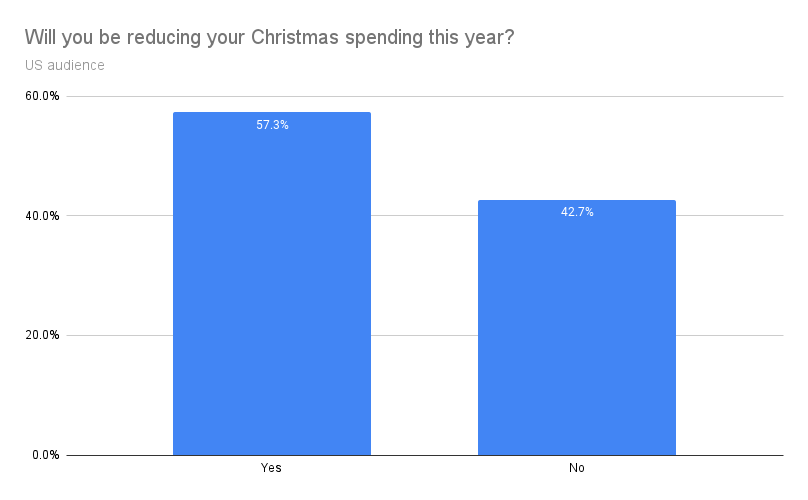 US consumers feel pretty much the same. 57.3% of them will look at reducing Christmas spending in 2022. However, retailers Stateside can take some solitude from the fact that 42.7% of US consumers don't feel the need to cut back during the festive season.
However, they should not rest on their laurels. We still have almost 3/5 of the US populace who will look elsewhere for gifts this Christmas, avoiding traditional retail in favor of significantly cheaper alternatives.
Are there any positives for retailers this Christmas?
Traditional retailers may take a hit, but consumers are looking very likely to divert Christmas spending to the second-hand market places. SellCell's recent report shows how 28.7% (UK) and 25.9% (US) of consumers indeed plan to spend more in charity shops and 37.5% of (US) consumers & 41.4 % of (UK) shoppers won't buy into the latest tech, probably buying refurbished devices to save some cash. The entry in to the second-hand or circular economy may well be the way Christmas Shoppers maximise their budgets during the cost-of-living crisis.
Will 2023 Bring Any Relief for Cash-Strapped Consumers?
That really remains for us to see, although one can hope that we'll see steps toward resolution of this cost-of-living crisis sooner rather than later. In the meantime, consumers will look at less expensive alternatives for their spending, and the second-hand market is in the perfect position to provide those alternatives.
However, with governments globally warning their populaces to prepare for the worst, it does make one wonder how much more squeezing the public can really take.
Methodology
SellCell surveyed 3,000 UK and 3,000 US adult (18+). The survey was an online survey conducted via a leading international survey house to gauge how people are impacted by the cost of living. The full survey can be seen here. No personal data was collected or stored during this survey.
Data compilation (September 2022).