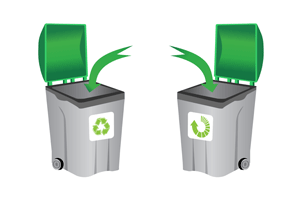 St Clair County in the United States is hosting a collection event this Saturday in order for residents to be able to come and recycle electronic equipment such as computers, microwave ovens and old cell phones. The collection event will take place over a six hour period in Goodells Country Park tomorrow between nine o'clock in the morning and three o'clock in the afternoon.
"It's the right thing to do," says the event coordinator for the St Clair County's Environmental Services Department, Barbara Barnes. Barnes says that elements such as lead, which are often found in electronic waste, can be hazardous to the environment and human health when they end up in landfills rather than being recycled, whilst also adding that "We also want to save valuable resources" and that "that sense of responsibility" is why the county is offering the staging the event, which will be free of charge, for residents.
Vintage Tech Recyclers, a recycling company based out of Romeoville in Illinois, are taking care of the recycling for the county, with everything from used cell phones to televisions, modems, mice, cables, MP3 players, fax machines and printers being encouraged to be recycled during the event. "The only thing they said they wouldn't take is large copying machines," Barnes points out, "and they don't want appliances" such as toasters or other electrical kitchen gadgets. Barnes notes that it has been a few years since the county staged a similar event, mainly due to cost, but that thanks to Vintage Tech Recyclers, "It's all free this time… That's why we jumped on it".