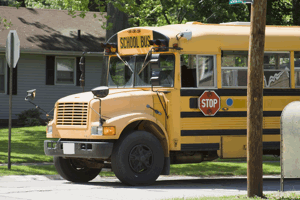 A school bus driver who used cell phones while operating the vehicle has been dismissed following a hearing in Pasco in the United States. School bus driver Delores Conley has been fired from her position, following the recommendation of Superintendant Heather Fiorentino, following a pattern of using her cell phone while operating the school bus. Conley was suspended in the fall after the fifth violation of the rule in four years, and was subsequently found to have committed the infraction again, resulting in the loss of her job, despite her denials that she has done so again since her first suspension.
"My job was too important to me to use my cell phone while students were on the bus or that bus was moving," 49 year old Conley claims. Conley's version of events however is refuted by no less than three other employees of Chasco Elementary School, who testified four months ago back in April that Conley had been seen using her cell phone on the bus while children were present following her return to duty after her suspension.
"I do think the cell phone policy is very important and I do think it's important we maintain the integrity of that policy," noted board member Cynthis Armstrong prior to the vote which sealed Conley's fate. There were even video clips from the bus, though Conley claimed that one of the clips was not from the bus she drove.