We all know how expensive it can be to invest in a new smartphone. With the new iPhone 13 range ready to hit shelves soon, now is the time to begin looking for a reliable way to raise some extra cash to put towards an upgrade- and that usually means selling your old phone.
Just like Americans, Canadians also use phone selling solutions to recoup the cash they've plowed into their tech investments.
Here are just some of the ways that Canadians can sell their phones today.
Rules for Canadians: Before You Start Selling
It's worth noting that the rules for Canadian customers are a little different than the guidelines we use here in the US.
A couple of years ago in 2017, the Canadian Radio Television and Telecommunications Commission decided it was time to ban all unlocking fees on smartphones. This also means that you can't sell a "locked" device to another company, unless they can unlock it before selling it on to another customer. It's best to check the rules and regulations around selling your phone before you start searching for a solution.
Other quick tips to keep in mind before you sell your phone include:
All important data must be backed up – that includes all your favorite photos, videos, and apps. You'll be able to use Apple iCloud for this on an iPhone.
Turn off any GPS that allows you to track your phone if it's lost. You're not going to need that anymore.
Take out your SIM and remove your data – no-one else wants to see any pictures of your cats, or recordings on your phone. Return your device to factory settings.
It's also worth making sure that you have your phone in tip-top position if you can. The more you can describe your device as "like new", the more money you'll earn when you trade it in. Depending on the differences in price, it might even be worth replacing a screen or repairing a crack if it's cheap enough.
With that out of the way, let's get down to business…
Carriers Where Canadians Can Trade in Their Phone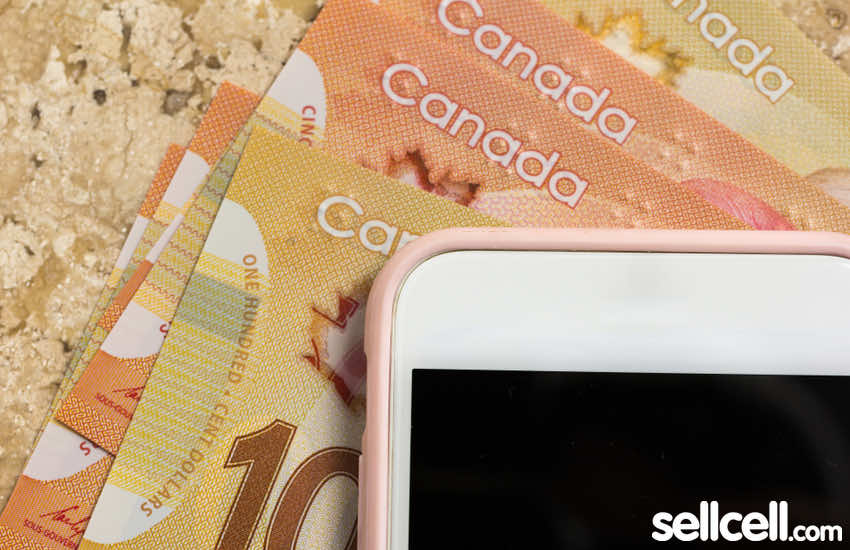 Ultimately, the deals available for calls and credit are limited, which is why it seems like every Canadian is over-paying for their phone plan. On the plus side, if you're just looking to trade up to a new model of your favorite phone, you might find that your Carrier gives you the easiest option.
In fact, this is what most people do. They take their old phone in to one of the "Big Three" carriers (Bell, Rogers, or TELUS) and trade it in to help finance a new phone. They don't offer very much, and you could earn more money selling it to one of the numerous online cell phone trade-in companies.
That said, Canada's Big Three, and their "discount" subsidiary brands, do offer trade-in credits, and sometimes you can find yourself a good deal.
Let's take a closer look.
1. Bell
There's no avoiding the Grandma of all Canadian carriers. Bell Canada is the oldest and most established phone company in Canada. Today Bell boasts the largest mobile network in the country and is rated among the fastest data speeds in the world!
However, Bell is also among the most expensive carriers in the world. So, when it comes to trading in your device, you won't always get a good deal.
2. Virgin Mobile
Bell's discount brands include Virgin Mobile, Lucky Mobile, and Solo Mobile. Only Virgin Mobile offers a trade-in program. Like with Bell, Virgin's parent company, you can get up to $700 off a new phone, but only if you have a brand-new mint-condition phone.
Where you win with Virgin Mobile, however, is with much better monthly plans. And because they use Bell's awesome high-speed network, you get all the perks without the high price.
3. TELUS
Canada's next largest telco is TELUS, based in Vancouver, British Columbia. TELUS also offers some of the fastest and most reliable data speeds in the world. Part of that is because TELUS uses the Bell network in eastern Canada, while Bell uses the TELUS network in the west. It's a match made in heaven if you're a shareholder, but not so much for consumers.
That's because, like Bell, TELUS is expensive. After all, the two companies operate a near-monopoly on high-speed cell service. And when it comes to trade-ins, TELUS isn't nearly as generous as Bell. They don't advertise their trade-in values, but we searched for an iPhone XR 64 GB and TELUS offered $400 off the price of a new phone.
4. Koodo Mobile
Of course, what's a large telecom company without owning a smaller brand? Meet Koodo Mobile, TELUS' discount brand. Koodo is a fun and bubbly brand. Koodo doesn't advertise its trade-in program, so we popped by a Koodo kiosk at the local mall and the friendly sales rep assured us that they do offer a trade-in, and our iPhone XR could fetch us as much as $400.
5. Rogers
Canada's third-largest carrier is also Canada's most popular, judging by monthly active users. Rogers, Toronto's most successful tech brand which started as a local radio station in the 1920's, built its coast-to-coast network with its own money and keeps it updated with new technology as it comes out. Rogers was also the first carrier to offer the iPhone in Canada, way back in 2007.
Of course, Rogers is expensive, just like Bell and TELUS. After all, in an oligopoly there isn't much to compete with. But Rogers started doing trade-ins a little differently. They began offering "Up Front Edge," which basically allows you to lease a phone, and then return it after your two-year contract is over. In exchange you get the phone for $0, and your next phone is $0 as well. It's not really a trade-in program for your current phone, but it may be something to think about.
Not to be outdone, TELUS began offering a similar program in addition to its trade-in option.
6. Fido
Roger's urban hipster discount brand is Fido. They've been around a long time, first as an independent company and then as an acquisition by Rogers. They offer Fido Trade, and suggested $400 for our trusty iPhone XR 64 GB.
7. Freedom Mobile
Rounding out Canada's carriers is Freedom Mobile, formerly known as Wind Mobile until western telecom giant Shaw Communications bought them. Freedom has something the Big Three (and their subsidiaries) don't have: actual competitive prices. But those come at a steep loss in quality. Freedom still uses antiquated LTE and 3G technology, and their network only covers a few cities in Canada. Which means you lose all signal as soon as you hit the highway.
Nevertheless, if you're only ever staying around an urban center, then Freedom offers a decent trade-in program. You can get up to $480 off the price of a phone with a trade-in.
Where Canadians Can Sell Their Phones Online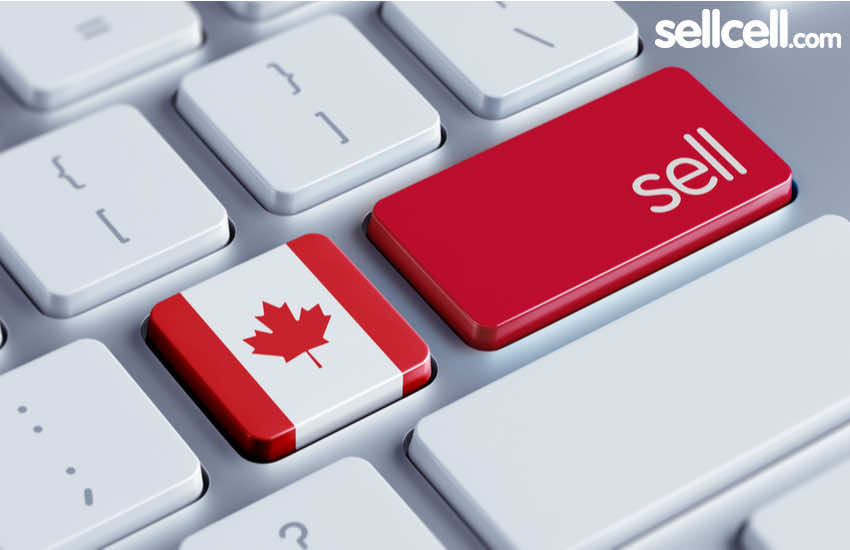 Don't want to sell your phone offline?
We don't blame you. Selling any device in person can be a real headache, particularly if you don't like to haggle with salespeople. What's more, for Canadians, there's the stress of having to find a nearby location to visit. A lot of significant stores seem to focussed around large cities, which means that if you live on the outskirts, you're going to have trouble.
The good news is that you can reduce the stress of trading in your old phone slightly by selling it online instead. Options for this route include:
1. Orchard
Orchard or Getorchard.com is a well-known online company that directly pays money for your old phones and devices, so you can spend your earnings on whatever you like, without being restricted to a gift card.
The thing that sets Orchard apart from other brands is that there are three selling times to choose from. You can either choose a day, two weeks, or three weeks before you get your money. The longer you're willing to wait for the cash, the more money you'll be offered for your old device.
What's more, Orchard comes with the benefit of being able to give you the money you've earned via E-Transfer or PayPal. That means that you will get your payment at the time you've asked for. Orchard also gives you a fully pre-paid kit for shipping your phone to them, which helps to keep things simple.
Pros:
Well-established company
Decent payouts
Easy
Cons:
Faster payouts can sometimes equal less money
Can take a long time to get a good payout
2. Go Recell
Another easy way to sell your phone is to use Go Recell. These guys are easy to use and offer good value for your phone. They'll even pay for you to ship your phone to them!
Go Recell will pay you with cheque, e-transfer, or PayPal, so you get your money fast.
Pros:
Quebec-based company
Operating since 2013 – Good trading history
Many payments options
Cons:
Average to good turnaround times for payments
3. Spherethat
When it comes to selling your phone online, Canadians have a lot of choices! Spherethat is another used-phone buyer who is based out of Vancouver.
Spherethat currently offers payment by cheque or e-transfer.
Pros:
Vancouver-based company
High payouts
Buys iPads as well as smartphones
Cons:
Relatively newer company
Not much information about them
Process takes a few weeks from shipping to receiving payment
Online Auctions and Marketplaces
1. eBay
Finally, if you'd rather skip the commercial trade-in and sales options and be your own salesperson, then you can always choose a site like eBay. There are plenty of people looking to save some cash on a new smartphone by buying them second-hand online. If you're willing to list your old device at a reasonable price, then you're sure to find a seller.
The best way to make sure that you're not over-charging is to see what other phones in a similar condition are going for. If eBay doesn't work for you, remember that there's also the Facebook marketplace to consider, and even Craigslist if you're feeling daring.
Make sure that you know what you're getting into when it comes to chasing down money from other consumers, though – people aren't always trustworthy.
2. Kijiji and Craigslist
Want to hear something funny? Eastern Canada primarily uses Kijiji to buy and sell used items, while western Canada uses Craigslist. So whichever side of the country you live on, you can post your phone for sale on the platform with the most viewers. This is a great way to get the most money, as there's always somebody looking for a used device. Of course, you'll need to include pictures of your phone, and see what other people are selling their similar models for.
And remember to always be honest about any damage with your device.
3. Facebook Marketplace
If creating seller accounts and dealing with strangers on the internet isn't for you, consider the most disruptive new online marketplace today. We're talking about Facebook Marketplace, of course.
There are many great things about selling your phone on Facebook Marketplace:
It's already on your Facebook app
You have a built-in market of local people already looking
It's not anonymous so it's more trustworthy
You get all the power of Facebook behind you
Of course, you still need to deal with researching competition, vetting potential buyers, and physically meeting with them to sell the phone. It can often be a lot easier simply to use an online phone buyers that we have listed.
Where Canadians Can Sell Their Phones Offline (In Person)
Canada has a lot more options for selling your phone in-person than they do for trading something in online. If you have a car and a local trade-in point somewhere near you, then you might be able to find a great deal by talking to a sales rep.
Typically, the best place to trade in an iPhone for cash is the Apple store. The company recently began to draw extra focus to its sustainability and environmental friendliness strategies. That means that customers get extra bonuses if they trade their old devices in towards a new phone. For instance, the latest iPhone Pro's $999 price tag drops to only $599 if you trade in your old iPhone X.
Of course, this option will only be helpful for iPhone users. If you have an Android or alternative device, then you're going to have to check out some other stores. For instance:
1. Best Buy
Here in the US, Best Buy is a great place to trade in old phones and gadgets for a little extra spending power. However, the main issue with this option is that you can only get gift cards in return for your products. That means that you can't go and spend your cash anywhere else.
To keep things simple, we recommend heading to the Best Buy website and checking the map for a location nearby that offers trade-in. In some parts of Canada, it's possible to ship the device to a Best Buy store if you can't find a local option. However, taking this route will mean that it takes even longer to get your gift card.
On average, you'll get around $500 on trade-in for an iPhone XR with 64GB of data at Best Buy, which isn't bad – but again, it's limited to gift cards only.
2. Fonelab
One of the more popular in-person trade-in options for Canadians, Fonelab offers high trade-in value for devices, and it allows you to claim your money in cash. There are very few locations in Canada that give you the same courtesy – so if you're looking to spend your money outside of the store that you sell to, then this could be a great option.
Fonelab will give you around $440 for the same iPhone XR mentioned above, but you'll need to find a location that's close-by first. This can be a bit of an issue for some Canadians, as there are only 7 Fonelab stores in total to choose from, and they're dotted across Ontario, in locations like Waterloo and Toronto.
3. Apple Store
Do you have an iPhone you want to sell? In that case, the Apple Store is always a great option. Apple will accept trade-ins towards the purchase of a new iPhone, and often they have some great deals available for newer iPhones. For instance, in autumn 2019 Apple Stores in Canada were offering $700 towards an iPhone 11 with a mint-condition iPhone XS trade-in.
But that's where the fun stops. You see, Apple is only interested in late-model iPhones. So, if you have an iPhone 8 or earlier, you may not get anything. Also, they offer store credit only.
4. Cell Phone Repair
Another option for Canadians to sell their used phone is to head to their local Cell Phone Repair store. This chain, with 27 locations across the country, buys used phones, refurbishes them, and resells them. However, they only offer store credit towards the purchase of another refurbished phone. So, if you're looking for a brand-new phone, you'll want to try some other options.
Go Out and Sell!
There you have it, all the options you need to go out and sell an old phone in Canada. While Canadians are a little limited in their options for high-value trade-ins, there are still plenty of companies out there that are more than happy to offer cash for an old device.