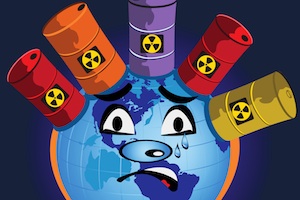 On Tuesday, Bee'ah, the award winning and leading integrated environmental and waste management firm in the Middle East, launched an electronic waste pre-sorting and dismantling facility in Sharjah. The facility, situated at Al Saja'a, will have the ability to efficiently and safely dispose of electronic waste such as old cell phones, computers, fax machines, printers, and various other electrical goods.
"The electronic goods industry is one of the fastest growing in the world," says the chief executive officer of Bee'ah, Khalid Al Huraimel. "Due to the high demand for smaller and better technology, the electronic waste stream is rising and becoming a concern in the Middle East. The collection and treatment of electronic waste is a fundamental element of Bee'ah's overall integrated waste management strategy and expansion to handle new waste streams in Sharjah."
There are many hazardous or toxic substances to be found in electronic waste, including the likes of heavy metals such as lead, cadmium, and mercury, among others. Electronic goods also contain traces of precious metals such as silver, gold, platinum and copper, which are in finite supply, together with glass, plastic, and other materials. Extracting these materials in order for them to be reused in other goods cuts down on the need to continue depleting the precious resources of the planet. Many tons of electronic waste ends up in landfills across all of the United Arab Emirates each and every year.