Apple's digital developer's conference has revealed several changes across the board, but what about hardware? Here's what was revealed at Apple's 2020 Worldwide Developer's Conference.
Anyone with an Apple device and a penchant for tech news will undoubtedly have been excited for WWDC 2020. This is Apple's opportunity to showcase their plans for the next upgrades to devices and operating systems. But, with rumors circulating wildly before the event that hardware was off the list, what exactly did Apple have to say for themselves.
There are some major changes across the operating system board. Lets also not forget the previously Bloomberg-reported switch from Intel to Apple's own ARM processors in its Macs. So, let's take a quick look at what we can look forward to as Apple moves forward.
iOS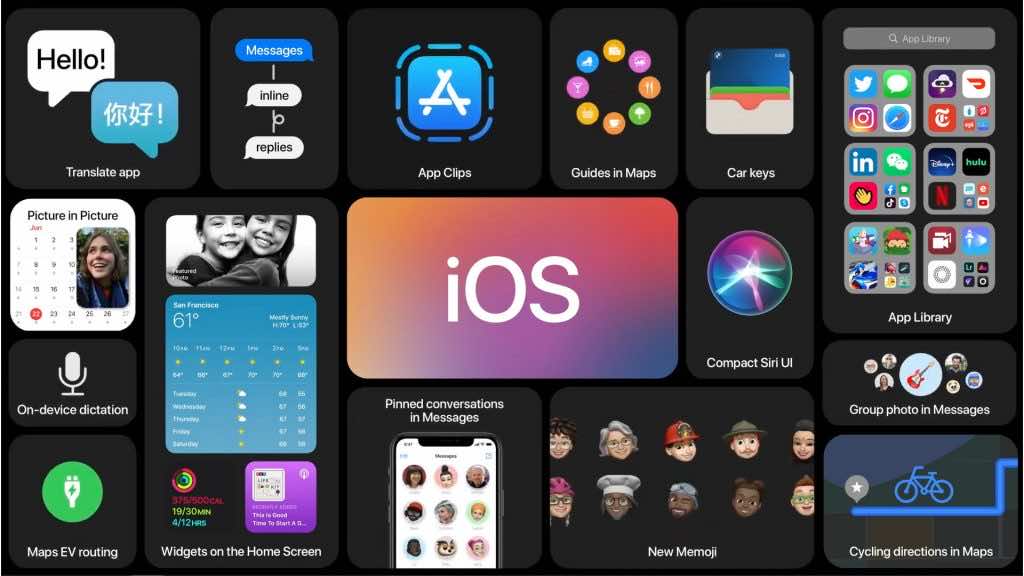 iOS is Apple's iPhone operating system. The OS is now at its 14th update and Apple has introduced several changes with the latest edition.
Home Screen
Apple has made changes to its iOS home screen which we're sure iPhone users will be delighted about. The new App Library organizes all apps in user-friendly folders. These are pre-defined into categories such as "Arcade" for games. There is also a "suggestions" and "recently added" folder. You can also edit your app screens so it only displays your home screen and app library, streamlining the process.
Widgets
Apple will also be re-imagining its widgets, with different sizes available. You can place these on your home screen amidst app icons. Loading the widgets into an image stack allows you to flick through widgets like a Rollerdex. You can even schedule this image stack, to show you certain widgets at specific times of day, like morning news!
Messaging
Messaging will receive pinned conversations for easy access. Apple's Mimoji will grab a bunch of updates with new hairstyles and headwear, plus some new stickers. You can also use a "mentions", similar to using the "@" tag in the likes of WhatsApp.
Maps
The iOS Maps update has great news for cyclists. It intelligently picks out cycle lanes to provide the safest route. It can also let you know elevations so you can take the easiest route for your legs. For the electric car drivers out there, they have EC routing, so you can drive a route that mans your car battery won't run out of juice.
App Store
The App Store will benefit from an update that enables "app clips". These allow you to get straight to the apps you need when you need them. Imagine you want to pay for parking. Simply tap your phone against the NFC parking sign and it will grab you the app from the app store.
iPadOS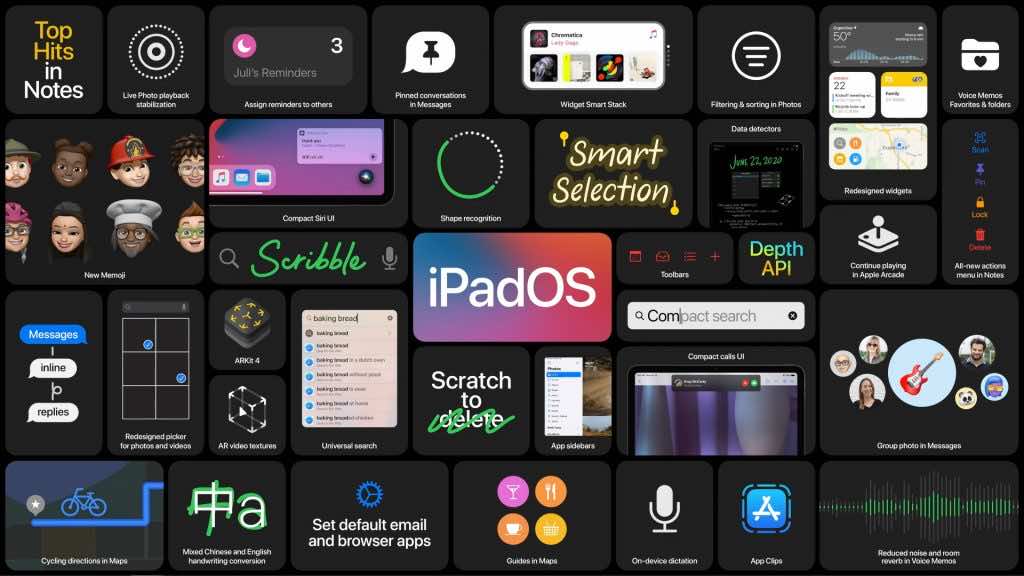 While iOS and iPadOS are very similar in nature, they are also separate beasts. The upgrades follow iOS and have also reached their 14th iteration on the iPad. A lot of the updates are the same as with iOS, although some tweaks have been made that are iPad-specific.
Photos
You can now navigate your photos in an easier manner, with photos displayed in a much more attractive gallery view. You can also place your photos in the sidebar for increased ease of access.
Search
Search has a new, more compact design. It is now a "universal search", which works searching within apps like Mail, as well as finding apps themselves, as well as websites and any other information you might want to find with your phone.
Apple Pencil
The Apple Pencil will be wholly opened up into a more useful device. Handwriting will be introduced with the new Scribble app, allowing you to use your handwriting in any text entry field. It will then automatically be converted to typed text.
macOS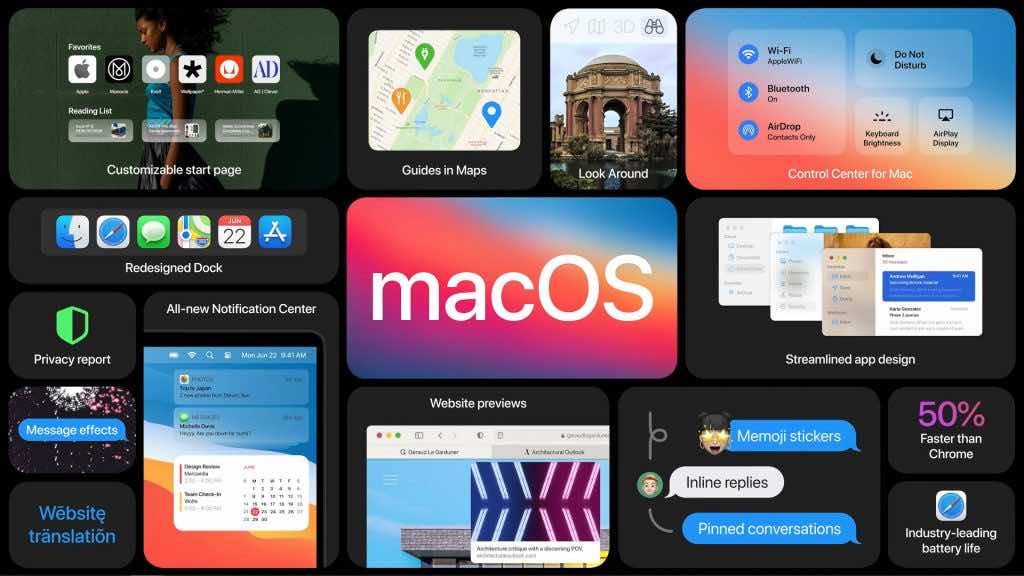 You'll find macOS on Apple's computers, so MacBook, iMac, and Mac Pro and Mac mini. We have reached version 10.16 and, with it, we see a number of updates.
Big Sur
macOS is to be named Big Sur. It features several design changes that hone in on the finer details of the operating system. Mac icons and sounds have been updated, with device and system controls also easier to locate and use. System apps have also received a lick of paint, with menu bars taking on a top-to-bottom format and a translucent background.
Control Center
The new Control Center sits up in the top right of the Mac screen and allows you to easily get to all of your controls. If you want to quickly change to dark mode, for example, simply head to the control center and toggle the feature.
Messages
The Messages app has been updated to provide further synchronization between your devices. Everything you can do within Messages on your iPhone can now be achieved with Messages on your Mac, including adding reaction animations such as celebratory confetti!
watchOS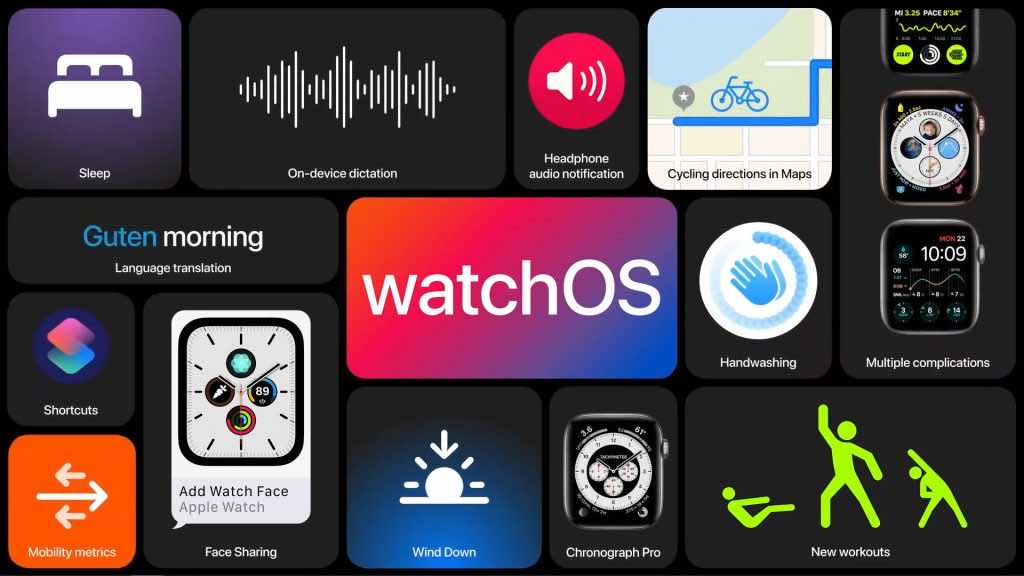 As you'd expect, watchOS is the operating system that the Apple Watch wearables rely on. This update is version 7 and it brings some interesting changes to the OS.
Watch Faces
The watch faces can be customized, with developers able to add "complications" – essentially information from specific apps such as Nike Running Club. You can even select watch faces you spot while online, or that friends send you, and watchOS will automatically download associated apps and install the new watch face ready to use.
Sleep Tracker
Apple has introduced the much-requested Sleep Tracker, with sleep goals a major part of the process. A new wind-down mode has been introduced to create a calmer pre-sleep experience, with the ability to play sounds from your favorite sleep app even included. The app will also give you an in-depth report on your sleep every night.
Hardware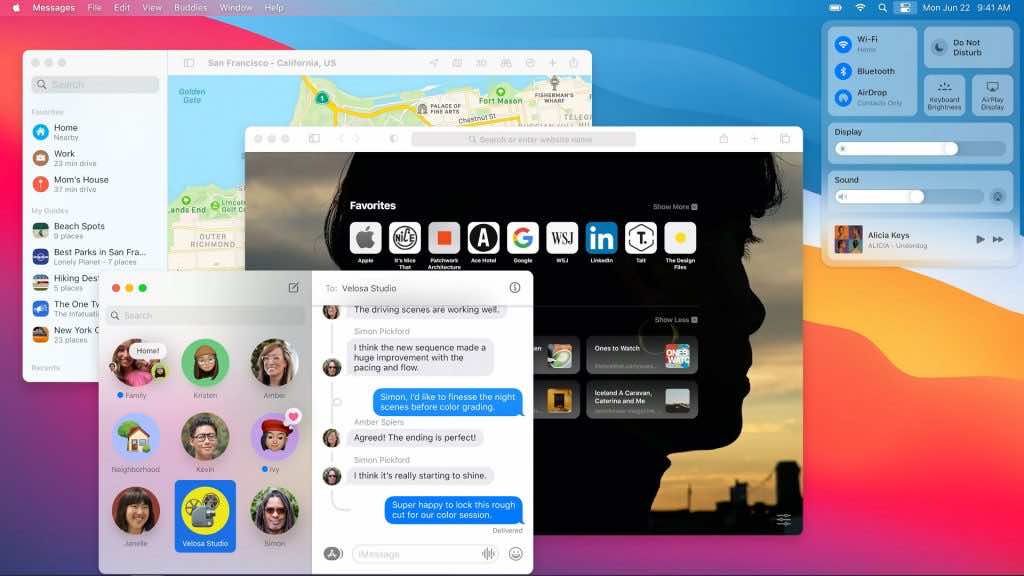 As rumors suggested, Apple will be making the transition from Intel chips to its own custom Apple Silicon. Other Apple products such as the iPhone, iPad, and Apple Watch all enjoy their own custom chips to allow for specific native tasks. The Mac will now also be making use of a custom chip to improve performance and drive synchronicity between devices across the Apple ecosystem.
The transition between Intel and the new custom, Apple assures us, will be seamless. Hopefully, this is the case. Developers can allegedly port apps across with ease, with only a couple of days required to bring their apps in line with the new architecture so it works without a hitch. iPhone and iPad apps will work directly within the new environment that the chip creates, without changes to the app code. The transitions are intended to start next week for developers, with the transition completed in two years.
Apple WWDC 2020
So, there have been plenty of exciting updates across the whole spectrum of Apple products. iPhone users are undoubtedly happy with the new app library. Apple Watch users are hopefully satisfied with their oft-requested sleep tracker. The changes to the Mac environment, while not overly huge, will add a bunch of features that Mac users will love.
If you're yet to invest in an Apple device, then you might want to grab one that doesn't come with the expensive Apple price tag. Grabbing a refurbished phone is a great way to do this. If you want to shop around for a refurbished handset, head to our Buy page and check out what is available to you.