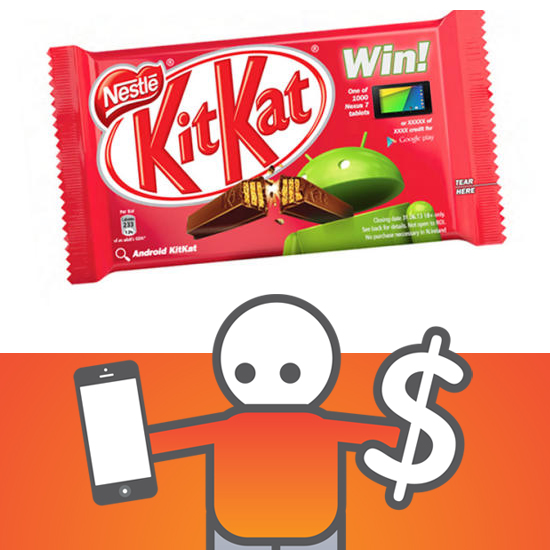 Google has announced that it is updating the world's most popular OS. Android version 4.4 is officially out and is even available on the new Nexus 5 already. Users are clamoring for Android 4.4, but not just new devices. Many people, especially those who have purchased Nexus devices, are expecting to receive the new update. Here is a look at what is currently known about which devices will get Android 4.4 and when.
New Devices
The Nexus 5 is already shipping with KitKat and almost any new device that runs Android will get version 4.4. Even low end devices will be running Android 4.4 because Google has worked hard to make sure this version of its operating system is optimized for all types of hardware.
Current and Older Devices (Official Support)
It is important to note that even though Android 4.4 runs on low-end hardware, that does not mean the OS was designed to run on older phones. A myriad of problems face any OS update, including conflicts with processor architecture and outdated software drivers that aren't part of the OS. The real goal of Android 4.4 is to reduce fragmentation moving forward. So, even though it will run on lower-end devices, Android 4.4 is still not going to be available as an upgrade for every existing device. With that in mind, here is a list of devices that will officially receive Android 4.4, those that won't, and those that may depending on demand.
Officially Supported (Devices With Confirmed Update Plans)
. DROID Maxx
. DROIND Mini
. DROID Ultra
. HTC One Max
. HTC One Mini
. HTC One
. Google Play Edition – Within 15 Days
. Carrier Models – Within 90 Days
. LG G2
. Moto X
. Nexus 4
. Nexus 7
. Nexus 10
. Samsung Galaxy S4
For devices on the above list, Google reminds users that updates can take up to two weeks to reach individual devices after release. That means that actual upgrades will probably occur in late November or early December in most cases.
Possibly Supported Devices (Capable of Running Android 4.4, but No Official Update Planned)
. LG G Pad 8.3
. LG Optimus (all versions)
. Samsung Galaxy S3
. Samsung Galaxy S3 Mini
. Samsung Galaxy S4 Active
. Samsung Galaxy S4 Zoom
Devices That Will NOT Be Supported
The Samsung Galaxy Nexus is the only device listed as officially not supported. This is important because users of the device have petitioned Google to add it to the support list. Google has responded by stating that the GNex, as it is affectionately called, is over two years old and thus falls outside of the company's 18 month support policy. Users with devices older than 18 months will not likely receive official support.
Older Devices (Unofficial Support)
Android is an open OS, which means that anyone can make changes to it. In the past, developers have taken it upon themselves to offer updates for older hardware devices that can handle it. With that in mind, it is almost certain that Android 4.4 will come to devices capable of running the OS, even if they aren't officially supported. That means that even though the Samsung Galaxy Nexus is not officially supported, it may still receive Android 4.4 if the developer community takes on the challenge. There is no way to know when these updates will be available.
The Bottom Line on Getting Android 4.4
The cutoff for official support is 18 months. Any device older than that will not be guaranteed support. Of course, developers are still capable of creating a workable solution, but that means users will need to root their phones. Given its specifications, rooting an older device to get Android 4.4 may be a viable option for many users.