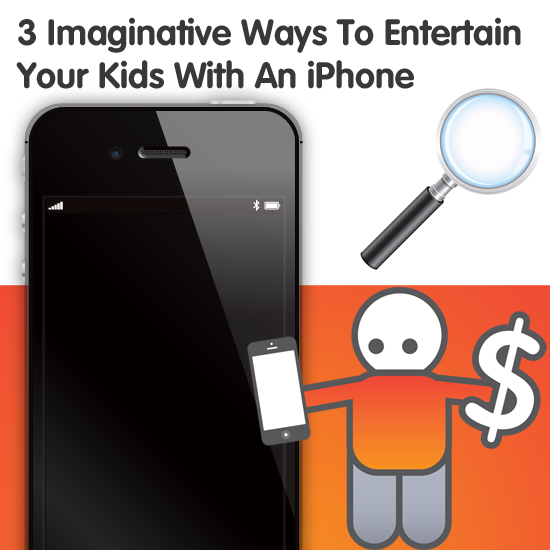 You may not realise it, but if you possess an iPhone you have one of the most versatile and sophisticated entertainment systems available. The portability of your iPhone also means that you have access to this entertainment whenever and wherever the situation arises.
Why not put this technology to good use in providing imaginative games and entertainment for your (or other people's) kids? Here we discuss three apps that can be used to provide some novel and creative entertainment for kids:
1. Geocaching
Geocaching is an app that supports the popular pastime of the same name; individuals hide items of 'treasure' (geocaches) and post the GPS coordinates online. The object of geocaching is for others to find the hidden item using the coordinates and a GPS receiver.
Available on the app store, Geocaching makes use of both the GPS function of an iPhone and internet connectivity to display a moving map detailing locations of hidden geocaches. Helpful hints and descriptions of the geocache can also be downloaded and displayed.
As an activity, geocaching can turn a fairly mundane walk through the city or countryside into an exciting quest for treasure. Geocaches can be large or small and sometimes contain souvenirs (keyrings, fridge magnets, etc) that can be exchanged when found.
2. Spy Kit
Spy Kit is an app that makes use of the iPhone's camera, microphone, speakers and motion detector for some innovative spy applications. Effectively a collection of apps within an app, Spy Kit includes a stealth camera (takes multiple pictures when the iPhone is moved), a flashlight, a voice disguiser and a motion/sound activated intruder alarm. With a little imagination, all of these mini-apps can provide some novel and original entertainment. For example, try placing a small container of sweets next to the iPhone and activate the intruder alarm; the objective is now to sneak up on the sweets and retrieve one without being detected! Cue the James Bond theme music as you and your kids spend the afternoon sneaking around the living room, testing your covert stealth skills.
3. VoiceBand
VoiceBand is an app that allows you to produce and record music using only your voice. Simply select a musical instrument (bass guitar, lead guitar, drums or saxophone) and hum the tune you wish to record. VoiceBand registers the changes in pitch of your humming and then converts it to sound like the selected musical instrument. VoiceBand allows overdubbing, so once you've done with recording the bass line you can then go back and record a drumbeat or add vocals. Once a track has been completed, it can then be saved as an mp3 file and shared via email. The compositions produced by VoiceBand can range from the uncannily accurate to the hilariously bad, depending on who made the recording!