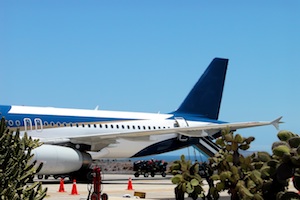 A new survey has found that the majority of American travelers want to be able to use their smartphones to connect to the internet via Wi-Fi or their cell phone network while in flight.
Conducted by Fly.com, the survey found that 80 percent of the people who responded wanted to be able to access the internet during their flight, while a further 66 percent wanted to be able to make calls with their cell phones while in the air.
This survey comes at a good time after the FAA announced that it would be conducting tests to determine if cell phones had any impact on aircraft as they take off and land, in a bid to see if cell phones can be used during the entire flight.
Vice president and general manager for Fly.com, Warren Chang said: "Not only do American travelers want to stay 'plugged in' during their flights, but there is also a much higher tolerance for in-flight mobile phone use than we expected. It is good to see that the FAA is looking at ways to satisfy this demand through possible new allowances."
Although Americans wish to have access to the internet while on board, the survey also found that they would not be prepared to pay extra for the service with 49 percent saying they would not be willing to pay anything, while 27 percent were willing to pay up to $5.