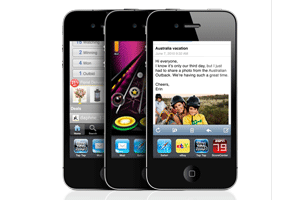 Since October, many iPhone customers have been waiting patiently (and some impatiently) for the arrival of the white iPhone 4 and, according to an article in the Wall Street Journal, that wait is about to end.
Last Thursday, Apple announced that the white version of the iPhone 4 will be released "in the spring". As it is now April, that should mean very soon. Although Apple did not say which mobile service providers will carry the white iPhone 4, in a recent report, Bloomberg said that they believe it will be Verizon Wireless and AT&T. This makes sense as the recent release of the iPhone 4 to Verizon Wireless had a good boosting effect on Apple's sales.
The original "carrot" that was the first white iPhone 4 to appear, did so last June; being held by then CEO Steve Jobs as he took the phone through its paces. However, the version released was not the white one because in white, apparently the phone is "more challenging to manufacture than expected" (quote from Apple). The white version has seen two delays since the iPhone 4 went live, so many are starting to become a bit restless.
Despite the unavailability of the traditional white which Apple gadgets are so well known for, the iPhone 4 sold approximately 16.2 million during its 'holiday' quarter, an 86% increase over the year before. Experts predict that, with the release of the white version, a new surge of demand will be created that will boost Apple's "summer" quarter sales.