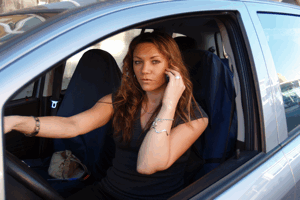 New Canaan Police are increasingly frustrated by the lack of impact a ban on the use of new and old cell phones while operating a motor vehicle is really having on drivers in the area. An expanded distracted driving law went into force in New Canaan ten months ago back in October of 2010, but Sgt Carol Ogrinc from the New Canaan Police Department says that the issue is still a priority for local law enforcement due to the lack of impact the ban appears to be having on drivers.
Around 1441 cell phone violations were written up between the 15th of August 2010 and the 15th of August this year, with Police Commissioner Jim Cole noting that the numbers were "frustrating". "This is frustrating to me as a police commissioner," he says. "They're a fraction of what I know to be the actual violations. Just from observing people around town, it's constant, it's ubiquitous. I look at these enforcement/citation numbers, they're only a fraction of the violations."
Police Chief Edward Nadriczny does not believe the situation is all doom and gloom however, believing that it will simply take time for drivers to grow accustomed to the new rules, in a similar fashion that it took some time for the mandatory wearing of seatbelts to become commonly accepted among the driving community. "People had to change their habits," he says.