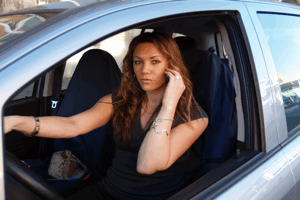 The number of drivers in Cheyenne who have been given a citation for using their new or old cell phone while operating a motor vehicle in 2011 is expected to exceed the number in 2010. No less than 321 citations have been handed out in the first six months of this year, in comparison to a total of 481 citations across the whole of last year, meaning that that number is almost certain to be beaten by the end of this year, much to the frustration of the Cheyenne Police Department.
Sgt Rob Dafoe, a spokesperson for the Cheyenne Police Department, does point out however that the increase may be due to several special details that have been arranged with the specific aim of catching those who used cell phones while driving. "We had a special mobilization, among others, from May to June targeting cell phone use, and we had 63 citations from that effort alone," he admits. "Talking with some of the officers, it's like fishing in a tank out there. There are so many people doing it – and honestly most of them have '2' county license plates (Laramie County license numbers). They know about the law and are choosing to ignore it."
The fine for those caught using a cell phone while operating a motor vehicle is $125 in the city and $75 throughout the whole state.