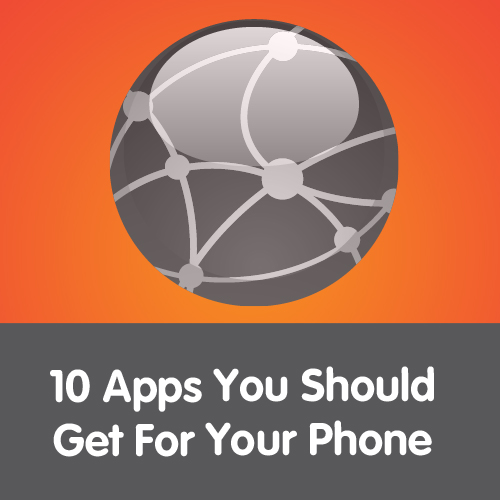 We all know that mobile phones today are about a lot more than just calling and texting. Apps today enable us to do everything from purchase groceries to observing stock prices and video conferencing to the other side of the world.
But with so many millions of apps out there and limited space on your phone, what are the most essential apps to download? Here we survey ten that are hot right now…
WhatsApp (Free & Paid)

Put simply, WhatsApp is an SMS replacement app, using your 3G or WiFi connection to message other Apple, Android, or Blackberry contacts that also have WhatsApp downloaded on their smartphone. With more than 250 million active monthly users, this is a must-have app indeed!
Viber (Free)
It allows you to do almost everything you'd want from a basic phone, completely free. Like WhatsApp, Viber uses your 3G or WiFi connection, allowing you to send not just messages but also make free calls to other Viber users. The sound quality is impressive, the layout is simple, and set-up is a piece of cake. Download it now!
Instagram (Free)
You know it's gone into the mainstream when people start to use "Instagram" as a verb. This photo-editing app is centered around filters, which you can apply to your photos (mostly of food) to make them as retro, hipster, or arty as you want. These photos then enter onto the Instagram social network for some serious scrutiny (how many Hearts will you receive?). You'll be addicted in no time!
YouTube (Free)
Searching, browsing, and then selecting a YouTube video to watch on Safari or the standard Android Internet browser can often be a painful experience. Avoid the resizing and the lagging browser by downloading the beautiful YouTube app instead. Just beware of procrastination!
A Transport App
As far as we know, there's no app actually called "A Transport App". What we mean by this is that you should install some kind of app on your phone that helps you with public transport in your area. For example, Sydneysiders would do well to download the popular TripView Sydney app with its up-to-date bus and train timetables.
Google Maps (Free)
This one is just dead useful, full stop. Whether you're driving, taking public transport, or walking to your next destination, Google Maps will help you get there in one piece. Needless to say, if you're an iPhone-user, Google Maps is an especially essential download to ensure you don't fall into the trap that is Apple Maps.
Fruit Ninja ($0.99)
Who would pay 99c to slice fruit on a screen? Millions of people, it turns out. Fruit Ninja advertises itself as "the greatest fruit-slicing game in the world" and with good reason. Launching in 2010, it was on up to one third of all US iPhones just two years later. Got a high score? Go ahead and boast about it on Facebook or Twitter!
Ticket To Ride ($7.49)
This one is a little harder than Fruit Ninja to learn, but oh so rewarding and fun. Originating as a railway-themed German-style board game, Ticket to Ride is a bit like a combination of Risk and Settlers of Catan. The app version features online multiplayer and pass-and-play multiplayer. You'll be hooked before long!
Genius Scan ($1.99)
Ever really needed to scan a document but not been able to access a scanner? Say goodbye to such situations ever again. Genius Scan is a wonderfully handy little app allowing you to quickly scan documents and then send them through email as an automatic PDF file. It's the perfect solution and super value for money.
Instapaper ($4.49)
If you're always coming across articles that you don't have time to instantly read, Instapaper will become your best friend. Instapaper allows you to select, save, and download an article as text so that you can read it as an offline file, for example, when you're on the airplane. It even allows you to adjust the font of the text!
Lucy Holmes is a university student and freelance writer who is interested in technology and discovering cool, new apps. She knows that Flexirent has her covered should anything happen to her laptop!