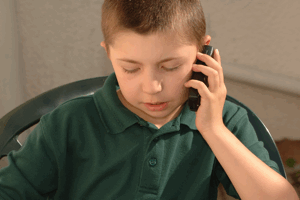 How do used cell phones affect the parent – child relationship? That is the question which a new study set out to discover. Given that no less than 75 per cent of all teenagers in the United States of America own a cell phone, the question may not be as trivial as it might initially seem.
"The phone is now a huge part of parenting," claims senior research specialist at the Pew Research Center Internet and American Life scheme, Amanda Lenhart. "It's how you reach your kids." The survey, which was conducted two years ago in 2009, showed that 70 per cent of teenagers talked to their parents on their cell phone a minimum of once every day. Now a new paper from California State University professor of human development Robert S Weisskirch, which has been published on the internet in the Cyberpsychology, Behavior and Social Networking journal, suggests that the relationship between parents and children – particularly teenagers – can be positively or adversely affected by their cell phone communication, depending on who initiates the calls and their purpose.
"What I found generally was that when adolescents are initiating the conversation and are seeking out social support and guidance from their parents, then almost across the board they tend to have better reports of getting along with their parents," Weisskirch says. On the flipside, parents who constantly used cell phones to monitor their child's whereabouts or nag them about trivial issues tend, unsurprisingly, to have a less positive relationship with them. Ultimately, Weisskirch notes that the cell phone is just a tool, not a substitute, for the parent-child relationship.