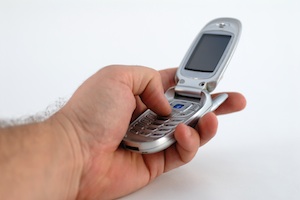 Boston University Police are searching for a thief who drives up to his victims on a moped, grabs their new or old cell phone from out of their hands and then rides off again. "It usually happens at night and someone will come up and grab or snatch the cell phone from the student's hand and then run off," says Chief Tom Robbins from the Boston University Police Department. "It's a quick event. It's over in a few seconds and the best thing you can do is not be walking and talking on your cell phone."
Students from Boston University say that is easier said than done however, especially when they are coming off a late night study session and they need to call home.
Several students over the last couple of months have reported that their cell phones have been stolen, with the latest involving a thief on a moped. While the incident was caught on surveillance video, the culprit was wearing a full motorcycle helmet, thus limiting their ability to get a good description. A different incident saw someone jumping off the back of a moped to grab a student's cell phone.
"It's a crime of opportunity," Robbins notes. "A thief sees someone walking on the phone, they say 'Hey, that's an easy target and I'll go and grab it'."
While police are increasing their visibility on campus, the lack of a good description means they are still uncertain if the same culprit is behind all of the incidents.