Last updated April 12, 2019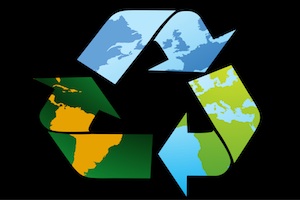 The Raffles International School in Dubai has managed to collect 200 kilograms of paper, seven printers, 70 kilograms of used batteries, plenty of cable and lots more in a bid to raise environmental awareness in its students. The waste is to be sorted by type, with paper and plastics to be given to Dubai based recycling unit Tadweer, while electronic waste including old cell phones, computers, cables and batteries will be handed to Enviroserve, the e-waste solutions provider for the United Arab Emirates.
A week long recycling event has been held on the school premises, and Environment Coordinator and Grade 5 teacher Pete Milne says that "All these waste materials would have been dumped somewhere in the desert if we had not encouraged children and parents to bring them to the school. We are trying to educate children on the importance of recycling. Such exposure benefits children who learn to reuse and recycle things around them. If you empower kids early, you can make a big difference to the world later."
The business development manager of Enviroserve, Nirmala Gilbert, says that electronic waste accounts for around 70 percent of all the waste being dumped all over the world and that because of the amount of dangerous substances such as lead that it contains, such waste needs to be disposed of by appropriate refineries which are capable of handling such toxic waste.
Tadweer personal representative Farah Alkhatib says that their company specializes in collecting old paper and recycling it into new products.