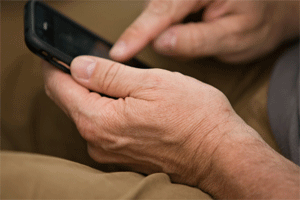 Once upon a time there were snap bracelets which were capable of being flat one moment, yet then wrap around your wrist in a similar manner to a watch. Now it's the turn of the cell phone, according to International Business Times.
International Business Times is claiming that Samsung is set to release a new cell phone, to be known as the Samsung Galaxy Skin, which will be the ultimate in flexible phones. The Telegraph is also going with the story, claiming that the Samsung Galaxy Skin will feature an AMOLED display that will be able to bend "around a cylinder with a 1-inch diameter". The paper also alleges that the new bendable cell phone will come equipped with an eight megapixel camera, 1.26 GHZ processor and up to 1GB of RAM. The screen will also apparently be much brighter than is the norm on the great majority of cell phones, as well as being very low energy and practically unbreakable.
The new bendable phone was developed by two professors, Jye Yeon You and Haeseong Jee, and the Telegraph says that it uses a plastic polyimide substrate rather than glass, with sources claiming that it would be capable of surviving even "a blow from a hammer", with grapheme being the key material used, which is known as one of the strongest such materials in the entire world.
Samsung has not yet revealed when the Galaxy Skin will go on sale.