Last updated May 2, 2019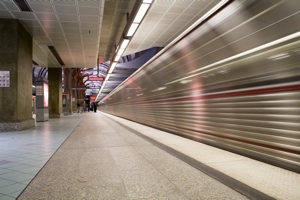 The New York City subway switched on its first cell phone antennas yesterday, with subscribers to AT&T and T-Mobile now able to surf the internet and make calls from underground corridors and platforms at up to six stations in Manhattan's Chelsea section. The service is expected to expand to as many as 271 more stations over the course of the next five years.
With travelers in other American cities having been able to make calls while underground for many years now, New York City officials say that the service was long overdue there, though reaction was mixed amongst passengers, with some lamenting the loss of the subway as the one place in the city where one could escape torrents of tweets and bleeping Blackberries. "I'm not too happy about that," admits 84-year-old Helen Wekony. "Some people's voices are very strident."
The move might seem counterproductive to some, given that other commuter railroads in the area have been cracking down on noisy cell phone users, with some rush hour trains even being given phone-free "quiet cars" at New Jersey Transit and the Metro-North Railroad. New York City officials claim that the situation is different there however, pointing out that the signal does not cover train tunnels but simply station areas, meaning passengers will be spared from loudly learning about their fellow commuters personal issues while on the train.