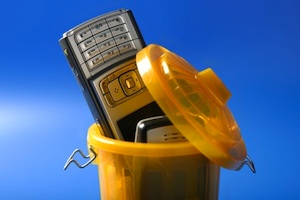 Electronic waste, including the likes of old cell phones, "is a stupid problem", according to the environment minister of Sweden, Lena Ek. Ek made the comments during a recent trip to Nairobi, where she was a speaker at the Green economy seminar that took place to the UN Governing Council Environmental conference. "Everything in a computer can be used over and over again, so it seems stupid that we throw it all away."
The minister's words hit home given that the capital city of Sweden, Stockholm, is one of the cleanest and most environmentally friendly cities in the entire world. The Swedish Trade Commissioner to Kenya, Henrik Danielsson, notes that the situation took a lot of hard work but has paid off handsomely. "In the 70s in Sweden, people would not dare dip their toes in the waterways of Stockholm, now it's quite possible to actually drink from these waterways," he points out. "Most cities in Sweden have buses that run on bio-gas. This is a vast improvement from the 70s when Sweden was amongst the most oil dependant countries in the world." Danielsson notes that the traffic problem is one that is actually simple to find a solution to with the right planning.
Alice Kaudia, the Kenyan minister of environment, talked about last year's establishment of an e-waste plant in Mombasa, calling it "a relatively new concept" but that "Kenyans are a knowledge hungry people and the challenge lies in sharing this knowledge for a better economy".