In the build up to the iPhone 5 release we spotted a few stories where people will be selling their spot in the queue.
We even posted about Task Rabbit, a site that allows people to post jobs on, whereby people were posting such jobs as "I will stand in queue for the iPhone 5 for $55". I think the most I saw was $150.
However this has to be a new record as a senior mechanical engineering student at Tufts University sold his spot at the front of a Boston queue (21st place to be precise) for $460.
How Much is The iPhone Selling For?
You can get your hands on an iPhone 5 from between $199 – $399 (16GB – 64GB). So basically he has earnt himself an iPhone 5 and some change, not a bad day really.
Apparently he didn't queue with the intention of selling is spot, but the idea came to him as the queue grew and grew over the course of the morning. So what did he do? He asked some people in the queue to hold his place while he ran to a nearby store and bought a marker pen and some brightly colored paper.
This a photo of him outside the Boston Apple store: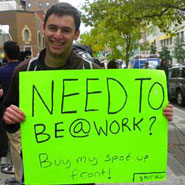 What happened next?
Next a bidding war broke out between two Apple fans that had seen his sign, but were further down the queue and not guaranteed a phone. Eventually one backed out whilst the other won the spot.