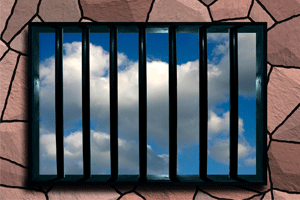 A private company in California is paying out millions of dollars in order to be able to block the ability of prisoners to use smuggled new and old cell phones to make calls, send text messages and conduct web searches. State officials say that the move will end up not costing the taxpayer even so much as a cent because the company involved, Global Tel Link, is the company that actually owns the pay phones within the Californian prison system.
The deal addresses the increasing problem of cell phone use within what is the largest prison system in the United States, where inmates have been able to make use of the technology in order to run criminal enterprises, organize attacks on guards and intimidate witnesses. Global Tel Link is paying for the blocking because it anticipates demand will then inevitably soar for the use of its pay phones by prisoners, who will be left with no other way of contacting the outside world.
"There are pay phones available on the yards, but if you were to go to them now, there's no one using them," says Department of Corrections and Rehabilitation representative Dana Simas. "They're empty and a couple of years ago there were lines hours long."
The blocking technology is expected by Global Tel Link to be up and running at Solano's California State Prison by the end of this year and at all prisons by the end of 2015.