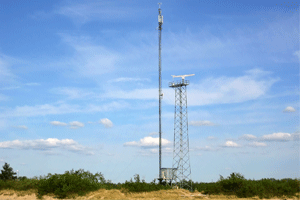 Kirkland town officials are continuing to push for the removal of a cell phone tower that was erected in a residential neighborhood in the town around two weeks ago without either consultation with local residents or the knowledge of the municipality. Officials are to meet up again on Friday with representatives from Canadian cell phone service provider Rogers Communications, which installed the 14.5-meter cell phone antenna in the style of a lamppost, in the backyard of an Acre Street home. The two sides met the previous Friday but could not reach an agreement over the installation.
"We are demanding it come down," says Kirkland's director general, Joe Sanalitro. As they stand, Industry Canada regulations do not force cell phone companies in the country to obtain a permit from the municipality or to hold a public consultation before they can erect a cell phone tower that is less than 15 meters high.
The tower, which is not yet functional, has sparked interest outside of the municipality. Lac St Louis Liberal MP Francis Scarpaleggia called on federal industry minister Christian Paradis to explain the logic behind the regulations of the federal government on this matter and why telecommunications companies are exempt from having to consult local communities before they can install cell phone towers under 15 meters tall.
"Most people would agree an installation of that height constitutes a major structure, especially in a residential neighborhood," Scarpaleggia says.