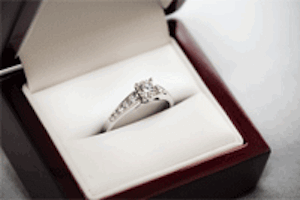 Once upon a time customers for an engagement ring at Van Cott Jewelers would look at photos or possibly even just trust the description of the finished product given by the jeweler. Now, however, Birdie Levine, the co-owner of Van Cott Jewelers, has gone the high tech route with a new mobile app known as The Vow.
The cell phone and tablet app allows customers to be able to select from hundreds of different rings and even check out 3D models of every single design. "You can hit a little button, that will allow a hand to come up and show a particular ring that you love," Levine says. "And it will allow it to come up on a hand, so it's a very, very cool app."
The app can even result in a perfect match, according to Levine. "It's really important for a male because he sees exactly what his girlfriend wants. And that makes it a lot easier."
The Pew Research Center says that over four people out of every five now owns a cell phone, with 50 percent of those making use of smartphones that are able to surf the web. Joe Eckles, a store manager at Target, notes that he has no doubt that his company has a big future when it comes to its mobile application. "A lot of guests, being much more smartphone inclined and having it with them, want to be able to take advantage of it in their brick and mortar experience along with their online shopping experience," he adds.