Last updated April 12, 2019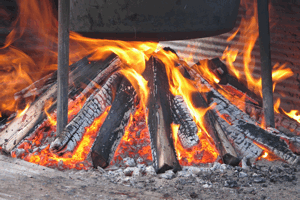 Consumers might soon be able to recharge their old cell phones while sitting by the campfire… with the heat of the campfire! A Japanese company has just come up with an innovative new way to recharge old cell phones via a device, known as the Hatsuden-Nabe thermo electric cook pot , which actually turns the heat from a campfire into electricity and can then be fed via a USB port into cell phones and other portable electronic devices such as global positioning systems and music players.
The device went on sale this month in the western city of Osaka in Japan, priced at 24,150 yen (which amounts to just under 300 US dollars) and the company behind the gadget, TES NewEnergy, intends to begin marketing it abroad over the coming months, particularly in developing countries where power grids can be somewhat inconsistent and unreliable.
The idea was the brainchild of the company's chief executive officer, Kazuhiro Fujita, who says he was inspired to create the device by the devastating March 11 earthquake that left millions without power and unable to contact their relatives. "When I saw the TV footage of the quake victims making a fire to keep themselves warm, I came up with the idea of helping them to charge their mobile phones at the same time," he says. One wonders how developing nations will afford this innovative product.