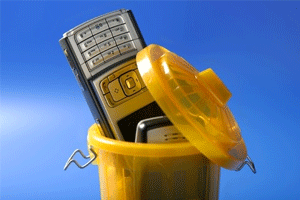 A new international project is getting underway to try to track old cell phones, televisions and other items of electronic waste. United States and United Nations officials made the announcement about the new project on Sunday, which will see collaboration with port officials in Asia and West Africa. They will try to keep track of how many used cell phones and other forms of electrical waste are shipped overseas for reuse or recycling to countries where health laws regulating the safe disposal of such material are often considerably weaker than they are at home.
Ruediger Kuehr, the executive secretary of the project, which is known as STEP (Solving The E-Waste Problem), says that in the United States only ten to 15 per cent of electrical waste is disposed of properly. "Tracking flows around the world… is fundamental to work out solutions," Kuehr says. The project will also serve to try to harmonize "international efforts, including research, tracking, data collection, analysis and information sharing" says STEP and the US Environmental Protection Agency (EPA), who are also involved in the scheme.
"Electronics is the fastest growing waste stream in the United States," notes Stephanie Adrian from the Environmental Protection Agency, adding that despite this fact, fewer than 50 per cent of all US states actually have laws that force manufacturers to take back their electronic products for the purposes of recycling. In addition, there is far too little information available as to what happens to those items that are unaccounted for.