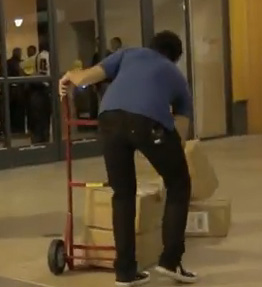 I've got to say, I've seen a few good prank videos of the last couple of week when it comes to the iPhone 5 but this has to be the best yet.
This video shows an Apple worker who stacks up 5 or 6 boxes on a trolley that are full of new "iPhone 5's" and then proceeds to drop them onto the floor by accident, smashing the contents.
The contents sounds to be like broken glass rather than real iPhone 5's, and the smashing glass effect certainly gives the full effect as horrified onlookers squirm.
Check out the video here: