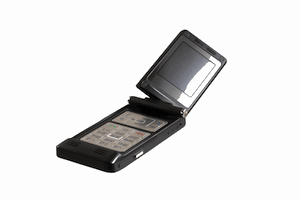 A new cell phone has been designed to make cell phone recycling easier when it inevitably reaches time for disposal. The RevOlvo combination cell phone and charger is deliberately designed to be easily broken apart once it has reached the end of its natural life, thus making life considerably easier for cell phone recycling companies such as SellCell than many other kinds of old cell phones.
This functionality is not the only attractive option that the RevOlvo combination cell phone and charger has to offer the discerning consumer, either. The touch screen cell phone comes with a charger that works simply by twirling it around ones finger. When the phone begins to run out of power, you need neither an electrical socket nor for it to be sunny outside, one just twirls the charger around one's finger a few times and it will soon have enough power to get the cell phone back to full strength through its use of kinetic energy.
The RevOlvo combination cell phone and charger was designed by Da Deng, Chandra Baker, Chris Platt, and Jason Schuler. With so many new and old cell phones reliant on batteries or other forms of electrical chargers, and even solar powered cell phones therefore inevitably reliant on it being a sunny day in order to recharge the phone when low on power, the new RevOlvo could prove a popular – and environmentally friendly – alternative.