Last updated April 12, 2019
We all know how hard it can be to struggle through the month of January. You have most likely used your December pay check on presents for family and friends, and perhaps some of you have even taken out loans to help ease the financial constraints that Christmas brings.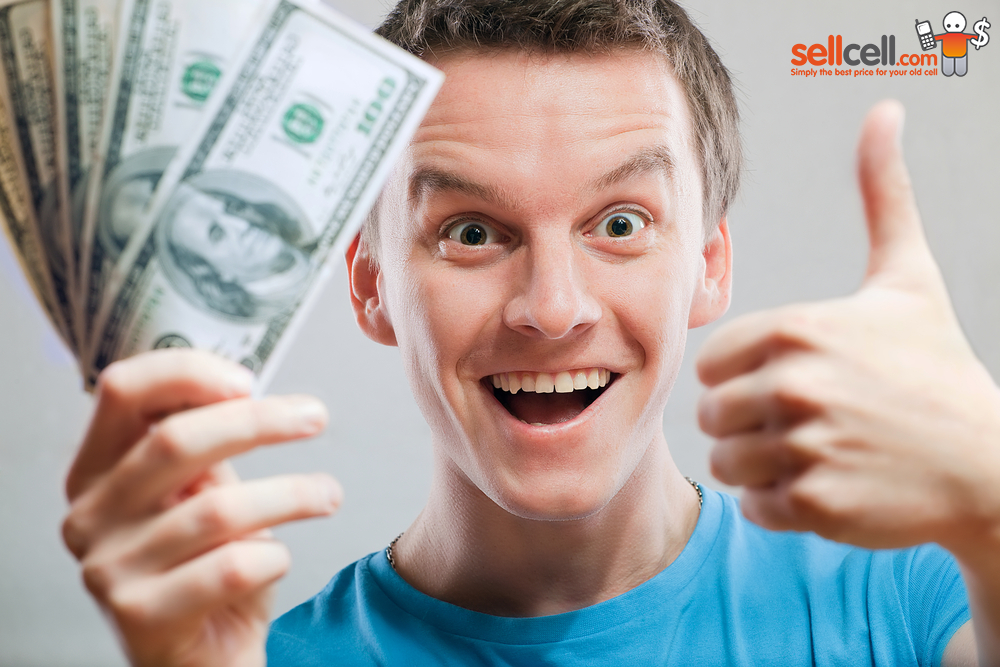 Believe it or not though, it's not all doom and gloom in January, and a month that has been branded the doom and gloom month for many years could turn into a month where you can make money without leaving the comfort of your own home.
At SellCell.com we have decided to give you a helping hand by offering 5 simple ideas that will give you the chance to make money back from items that are located around your house, most of which have never been used or are unwanted. Why clutter your house up with unwanted items when they could be helping keep your bank balance afloat, after all?
Take a look at our top 5 ideas below.
---
Sell Your Old InkJet Cartridges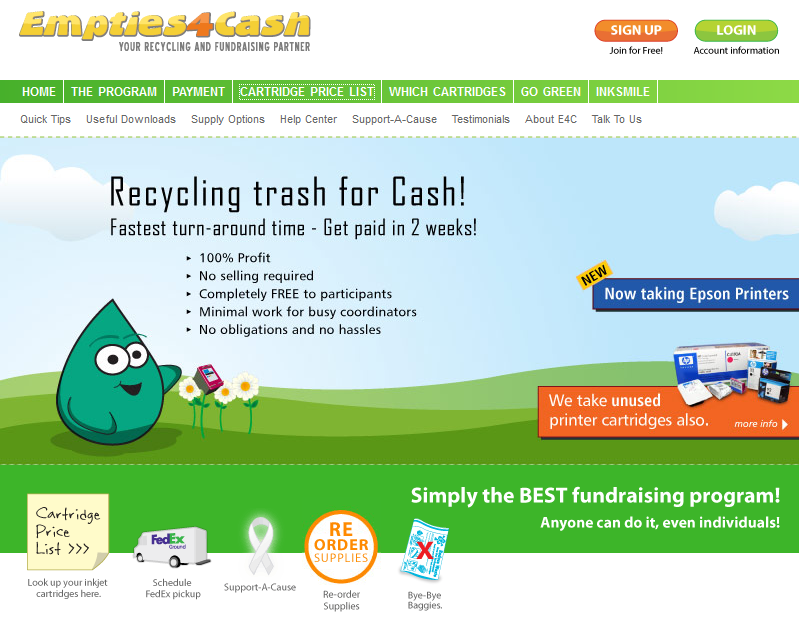 Not many people know what to do with their old inkjet cartridges; a lot of them get thrown into the garbage, or chucked to the back of cupboard drawers. If you think about the sheer amount of ink cartridges you get through in a year they can take up space and get in the way so it's better offloading them – and if you get paid to offload them then everyone's a winner.
However, with Empties4Cash you can trade in all those old cartridges for cash, and even unused cartridges. Take a look below at some of their pricing for HP printer cartridges: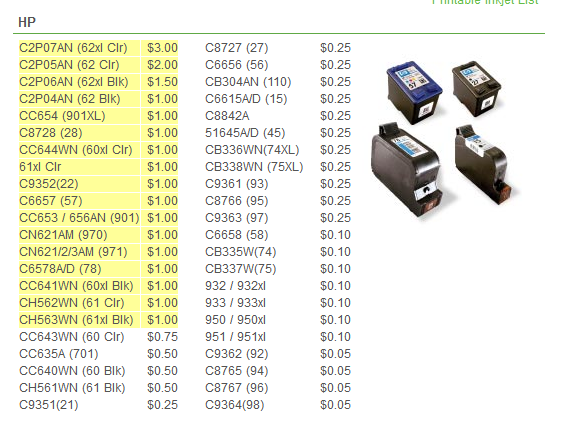 The process is simple as well; all you need to do is collect all your cartridges together and place an order with Empties4Cash. They will then either send you a free shipping label or send a collection team (depending on the quantity you have to send in). Simply send these through the mail and then once the company have received your package, they will usually pay you within 2 weeks after.
Just remember to cash your check in within 90 days of receiving it as the check will become VOID after this period has passed.
---
Sell Your Old Clothes for Cash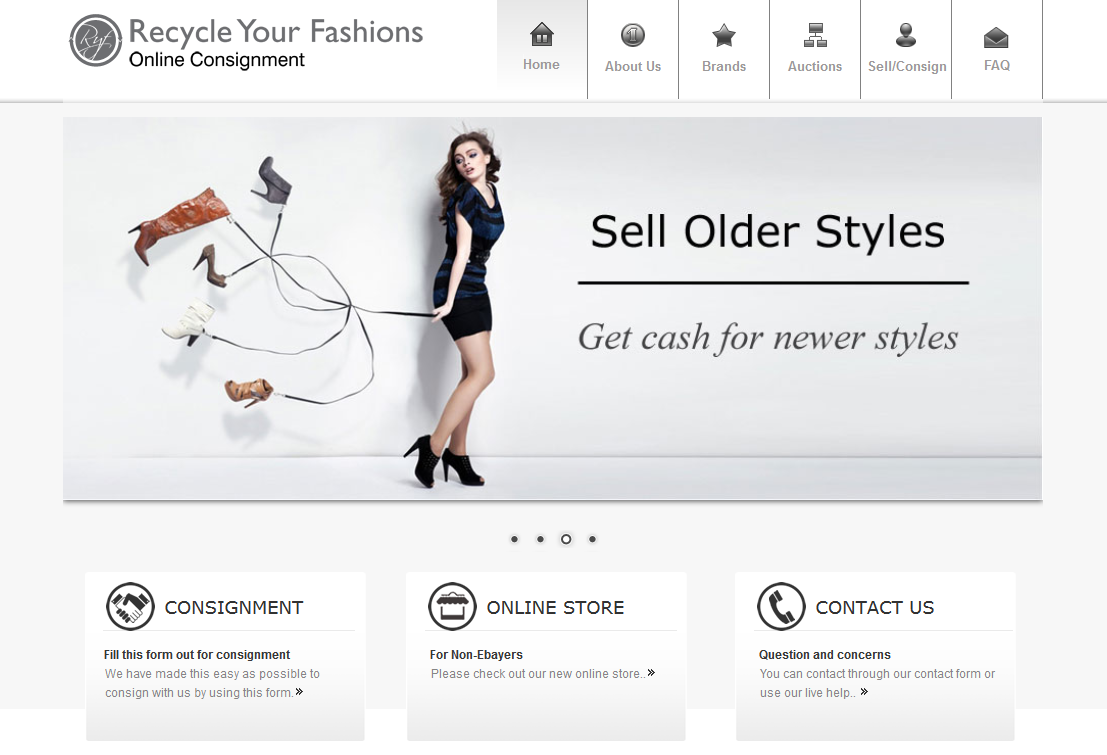 Recycle Your Fashions is a household name and a great way to get rid of clothes that you no longer want, either making room for more clothes or giving yourself a bit of cash to pay off bills or put in the bank.
You will need to register with the site before you do anything, and registration is free and takes roughly 48 hours for an admin to review and approve you onto the system.
Once you have been accepted you can take a look at the brands that are currently being accepted and complete a form for the clothes, shoes or accessories that you want to part ways with. After you have submitted the form the lovely guys and girls at Recycle Your Fashions will advise you of what they can accept, and then it's up to you to box up the items and weigh them.
Once you have a weight, you can email the company with that weight and they will send you out a prepaid shipping label. Just attach this to your box and then you can confirm a pick date and time, where a postal worker will collect the item from your doorstep.
The team at RYF will then sell the items on your behalf (you can keep track of what sells) and then they will give you 50% of the final price.
So there you have it, if you have a lot of clothes to sell then Recycle Your Fashions will take out all the hard work and do everything for you, without you paying out a cent.
---
Get Cash Back for Your Books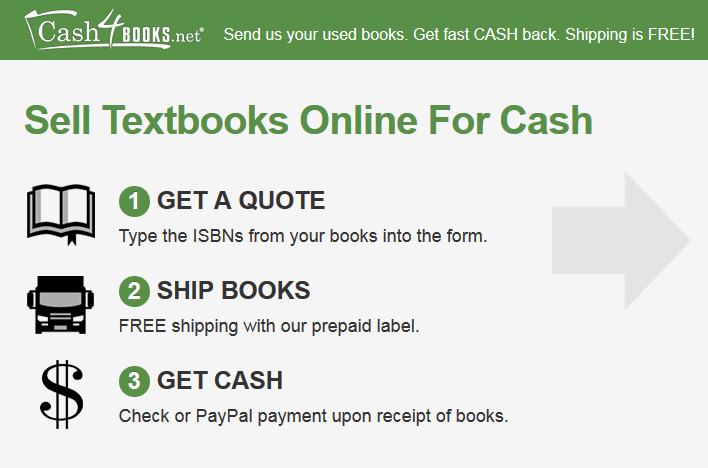 Another great selling tip for people is to sell your old books online. So many people hoard books around the house, in the attic and in spare drawers. If you are being overwhelmed by books then now is a great time to start cleaning out your book cases and trading them in for cash.
Cash4Books is just one site that we found that offer you the chance to ditch your old books for cash, and the process is pretty darn simple to say the least.
On the back of your books you will have an ISBN number, you just need to type this out on the form that is located on the right handside of the homepage (you will need to do this for each book that you are selling, each ISBN on a different line).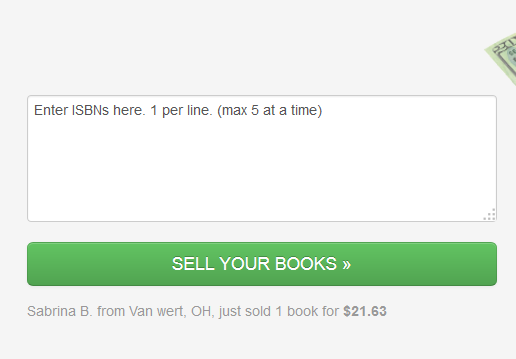 One you completed this first step you just need to click the "Sell Your Books" button and then fill out a few details in order to successfully place your order. A free shipping label will be sent to your address and then you just need to package up the books and get them sent off.
As soon as Cash4Books have received your package and checked through to make sure the books you have listed are the ones you have sent in, you will be paid through PayPal or check.
---
Sell Your DVDs and CDs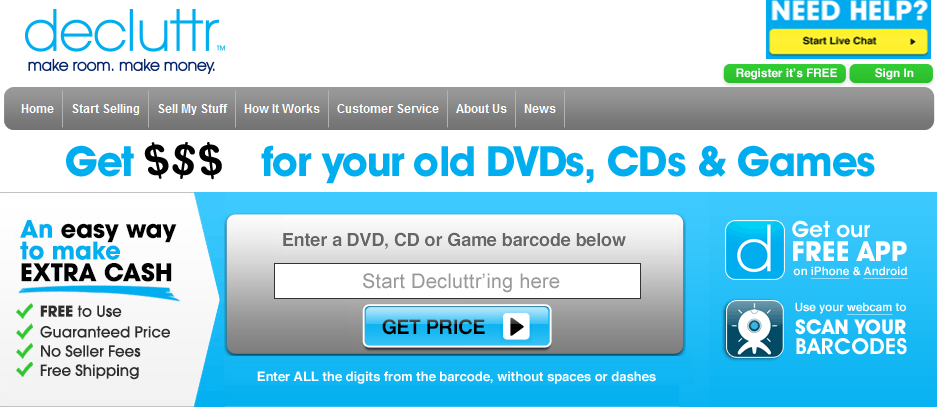 I think the majority of us fall into this boat, plenty of old CDs and DVDs knocking around your home, collecting dust and cluttering up space. Wouldn't it be great if you could start decluttering your home and at the same time make some cash back?
This is where Decluttr comes in handy as they will allow you to sell any old DVD, CD and even Games. Best of all, it's easy to use.
You can either enter the barcode into the search box to pull back DVD or CD titles or if you have a webcam on your laptop or PC you can scan in the bar codes. There is also a pretty cool app available on the Android and iTunes store which will make light-work of adding your items to the basket.
With each item entered you will be given a valuation, and of course the more stuff you have to sell the more money you will start to rack up (you can seal between 10 and 500 items).

Once you have completed the checkout phase you will be provided free shipping labels so you can ship your items for free to Decluttr, and once they have received the items they will be able to match them up with your initial order and then send you a check.
So what are you waiting for? Go and collect all those old CDs, DVDs and Games!
---
Sell Your Old Cell Phones and Tablets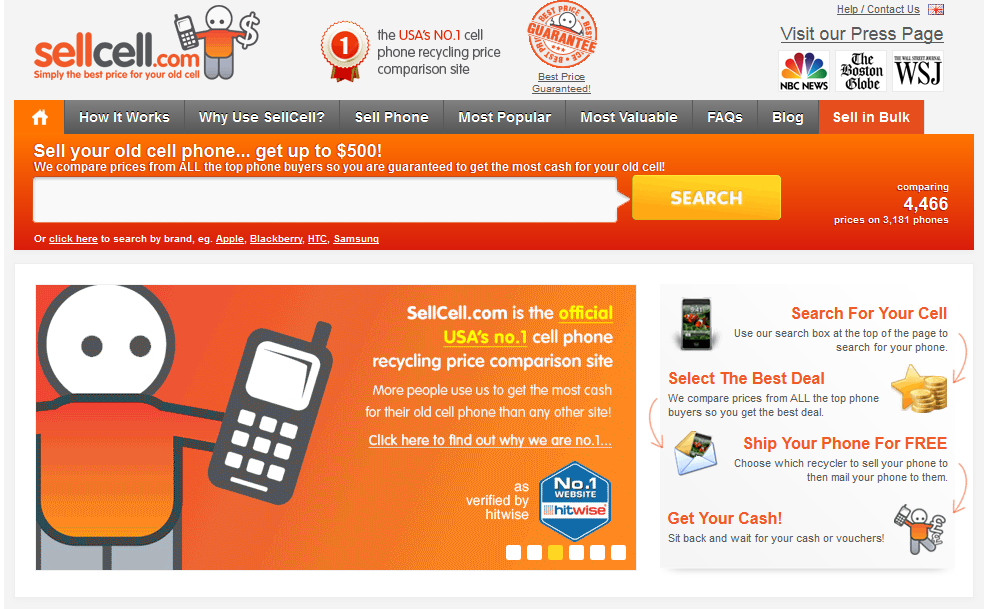 We can't compile a list of great ways on how to make money without giving ourselves a mention now can we?
One thing we do well is offer a price comparison on cell phones and tablets, and we want to help each and every one of you reading this, the chance to trade-in your old gadgets for top prices. Christmas was also a time where people receive phones as gifts, which means that a lot of phones end up going spare as the new phone takes center stage.
More often than not these phones end up getting left in cupboards, stored away in boxes and generally never get to see the light of day again.
In 2015, we know that phones are cheap, and if a lot you knew that the phones you were leaving abandoned in drawers cost on average between $100 – $150 you would be more inclined to digging them out and selling them.
That's where we come in! To trade in your cell phone through SellCell.com you have 4 easy steps to complete.
The first step is to enter into the search box at the top of the screen your phone make and model, once you have typed this in you will get a drop down of all phones that match that search term.
Simply click the one that matches your device. I have shown an example below of me searching for an iPhone 6: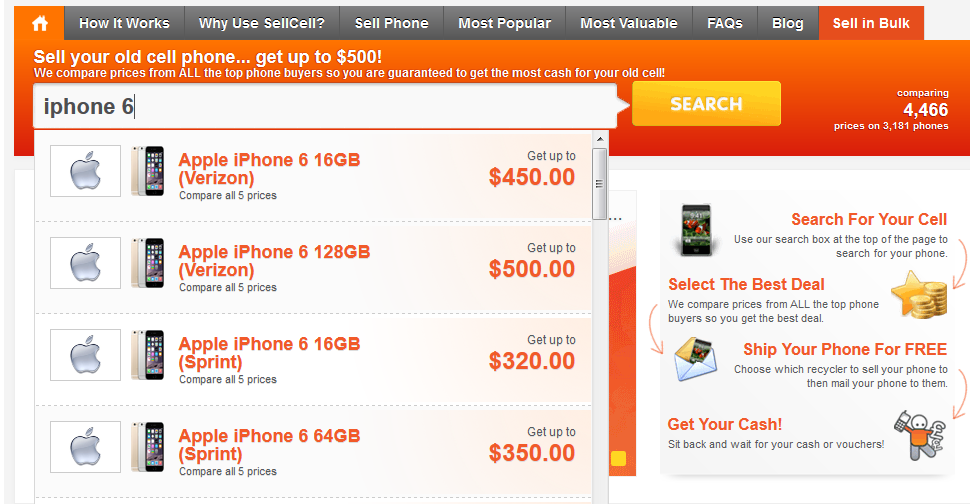 When you click the phone that best described the one you want to sell, ie iPhone 6 16GB then you will be taken to the main part of the process which is the comparison table of prices and buyback companies.
It is now up to you on which buyback company you want to trade with, so look at the payment methods, the speed of payment, the price, the feedback and anything else that you may want from your trade-in order.
If you are happy then hi the 'sell now' button which will take you to the next step of the process – this is where you will be directed to the buyback company you chose, and here you will enter some information to complete your order (such as name, address, preferred payment type).
We recommend posting your phone off using a fully insured and tracked service. USPS offer a handy postage price calculator where you can find out the exact price for sending in your phones or tablets, from whichever area of the country you are trading from.
As soon as your phone has been received and tested by the buyback company, payment will then be made to you. The payment time will vary depending on which buyback company that you decided to trade with.
---
Bonus Tip: Sell Your Event Tickets

If you received tickets for Christmas but don't really want to go, or can't go on the dates that someone had booked for you, then StubHub is a great place to sell them. Whether its concert, theater or sports related events you can sign up to the StubHub program, list your tickets, and wait for someone to come along and buy them from you.
Not everyone has tickets to sell, but if you do then our bonus tip is sure to help you out.
Summary
January doesn't have to be that cruel month that everyone dreads these days, with the Internet has come new opportunities to start selling things lying around your house and making a tough month more manageable.
Whether its clothes, CDs or phones these tips we have listed will not just make you some cash but they will also help clear up your home and free up space that you never had before. Start selling your old stuff now and you will be surprised on how much money you can make in 2015.