Last updated June 20, 2023
– 59.4% of Apple fans are happy to wait until after Christmas to get an iPhone 14 Pro, leaving 40.6% who won't wait
– iPhone models across the range will be the most popular choice for Christmas vs. other apple tech. 13.4% say they can't afford tech this year, and 27.2% will not be buying tech at all this Christmas
– 22.5% of consumers won't buy the iPhone 14 Plus because it is too expensive, 12.1% say it's too big, while 20.4% are positive about the Plus
The Christmas season is always one of the busiest times of the year for brands. Demand for products ramps up as we head towards December 25th, as consumers scramble to buy gifts. However, with a cost-of-living crisis impacting consumers and purse-strings overstretched as a result, is Christmas 2022 going to bring the same success for the big names?
SellCell interviewed over 2500 US iPhone users to find out exactly what their Apple-related purchase intent is in the lead up to Christmas and whether Apple devices feature on Christmas shopping lists in 2022.
The survey also asked whether people are happy to wait until after Christmas to receive their iPhone 14 Pro/Max, and thoughts around the iPhone 14 Plus. Opinions were also sought on the iPhone 15, specifically what features consumers would like to see once September 2023 rolls around. Let's look at the results.
Main Findings
Of all respondents, 37.4% of consumers will buy a new iPhone across any model (not necessarily an iPhone 14), 18.7% will buy Airpods, 16.3% an Apple Watch, and 8.3% will buy refurbished Apple tech this Christmas.
When asked, 27.2% of consumers said they won't buy any tech at all this Christmas, and 13.4% simply cannot afford any tech for Christmas 2022.
45.3% of people will hold on to their existing iPhone and won't be upgrading to the 14-series. Nearly 30% are however thinking about upgrading soon. 5.1% are already waiting for the iPhone 15 to be launched.
59.4% of iPhone users would wait 5 weeks to get hold of the iPhone 14 Pro, but sadly 40.6% said these delivery times would put them off.
When asked about iPhone 14 Plus purchase intent, 22.5% said they will not invest because of the price of the handset. 12.1% say it's too big. Nearly 8% say the device has poor features compared to the Pro. 20.4% however said they already own one, or would think about getting one when they upgrade.
Of all consumers, 35.2% want to see a fresh new look and design most when Apple releases the iPhone 15. 30.3% of respondents want to see new colorways, 28.8% want to see the return of the charger and accessories, 23.9% like the look of the periscope lens. Interestingly, 23.6% would see the return of Touch ID as the most exciting iPhone 15 announcement.
Summary
SellCell asked in excess of 2500 US iPhone users a series of questions in order to gauge Apple and iPhone purchase intent at Christmas, brand loyalty, and to gauge opinion on the iPhone 14 Plus.
1. What Apple tech, if any, will you be buying for Christmas this year?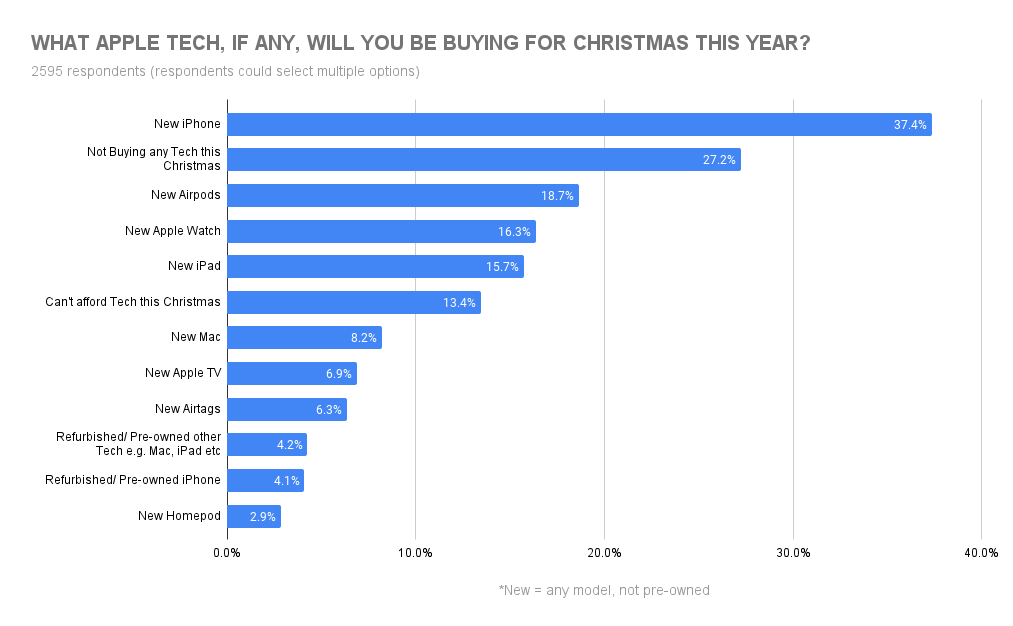 As you can see from the data shown above, a healthy 37.4% of consumers will buy an iPhone for Christmas 2022 across the iPhone range.
A combined total of 40.6% of consumers either can't afford to buy any tech at all this year (13.4%) or have simply decided they won't buy any tech at all (27.2%).
The most popular non iPhone device on Christmas lists is new Airpods, with 18.7% of respondents opting for Apple's take on the earbud, followed by an Apple Watch, which 16.3% of Christmas shoppers will purchase.
The Homepod is lowest on the list of purchase intentions, with only 2.9% looking to secure one for their living space.
Interestingly, 4.1% of people will buy a refurbished or pre-owned iPhone, and 4.2% will buy other refurbished Apple devices. This rings true, given the recent cost-of-living crisis survey SellCell conducted.
2. Will You Be Upgrading to the iPhone 14 Range?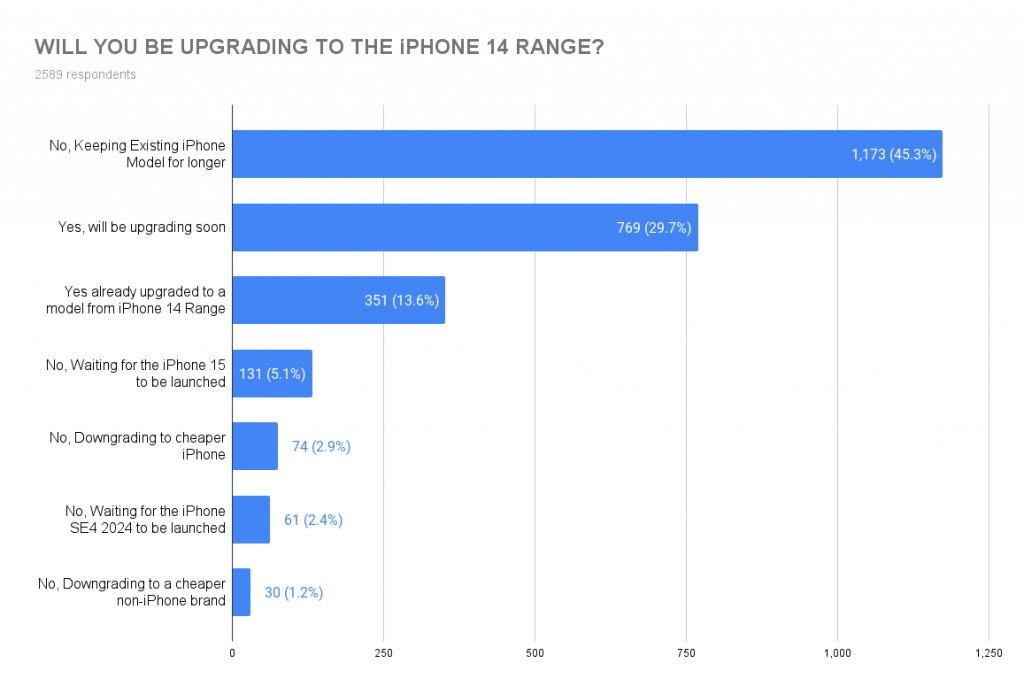 When SellCell asked consumers whether they would upgrade to the iPhone 14 range, 29.7% said yes, and they intend to upgrade soon. A further 13.6% of respondents said that they've already invested, and own a handset from the iPhone 14 range. But what of the remaining 56.7%?
Most respondents (45.3%) said they are keeping hold of their current iPhone model for a longer period. This may be for a combination of reasons. Inflation and the cost-of-living crisis may mean that customers want to enjoy the benefits of having paid their contract off, hence holding onto their older model for longer. Or could some of the availability issues have put them off? Some consumers (2.9%) will downgrade their handset to a cheaper iPhone model, while 1.2% intend to jump ship altogether, opting for a cheaper, non-iPhone brand.
We also have some very patient iPhone owners who will stick it out and wait for the iPhone 15 launch (5.1%), and some even more patient people who will wait until the iPhone SE4 2024 hits shelves!
3. Would You Be Prepared to Wait Five Weeks to Get Hold of an iPhone 14 Pro/Pro Max?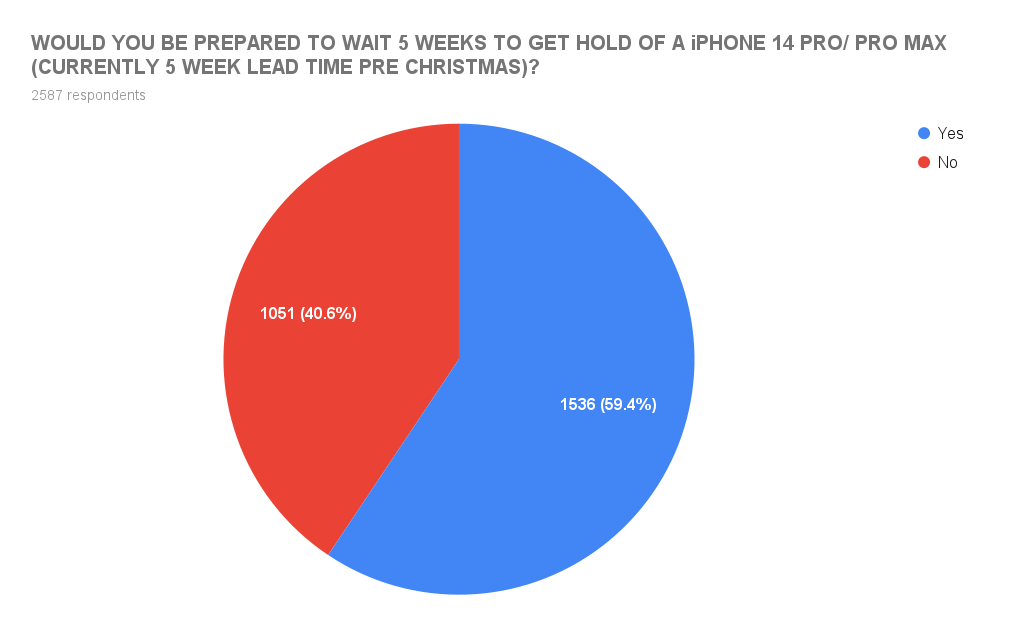 On the subject of patience, it seems that iPhone users have it in spades. With lead-in times now reported to extend beyond Christmas, are iPhone users happy to wait until the post-festive blues kick in before receiving their new handset?
The answer is yes, in the most part, as 59.4% of respondents will happily wait through Christmas for their package to arrive. However, this leaves 40.6% of people turned off by the idea of waiting this long for a handset. This is most likely to apply to people who intended to give the iPhone 14 Pro/Pro Max as a gift on Christmas Day.
4. Do You Like/Would You Buy the (6.7-inch) iPhone 14 Plus?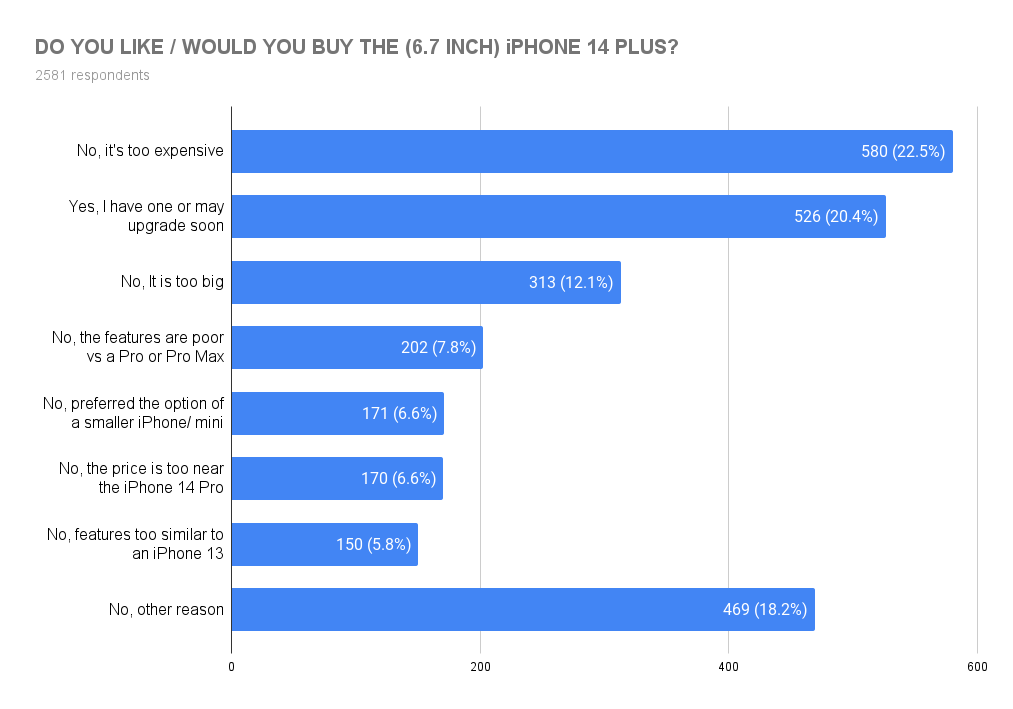 SellCell probed for opinion on the iPhone 14 Plus (6.7-inch). Most respondents (22.5%) said no, because they think the device is too expensive, and 6.6% say the price is too near that of the iPhone 14 Pro.
12.1% of consumers cite the size of the iPhone 14 Plus as the reason they won't buy one, and 6.6% of those who responded went that bit further and said they actually prefer the idea of a smaller iPhone like the iPhone Mini.
7.8% of those asked feel the feature set doesn't match up to that of a Pro or Pro Max, and 5.8% of people actually think the features are too similar to an iPhone 13, so not worth the upgrade. 18.2% of respondents couldn't make their mind up about the iPhone 14 Plus and just stated 'No' they wouldn't buy, period.
However, the good news for Apple is that 20.4% of those surveyed already own the 14 Plus, or may upgrade to it soon. So, Apple could see some success from the 14 Plus as we head into the festive period.
5. What Features Would You Be Most Excited About in the iPhone 15 Line-Up?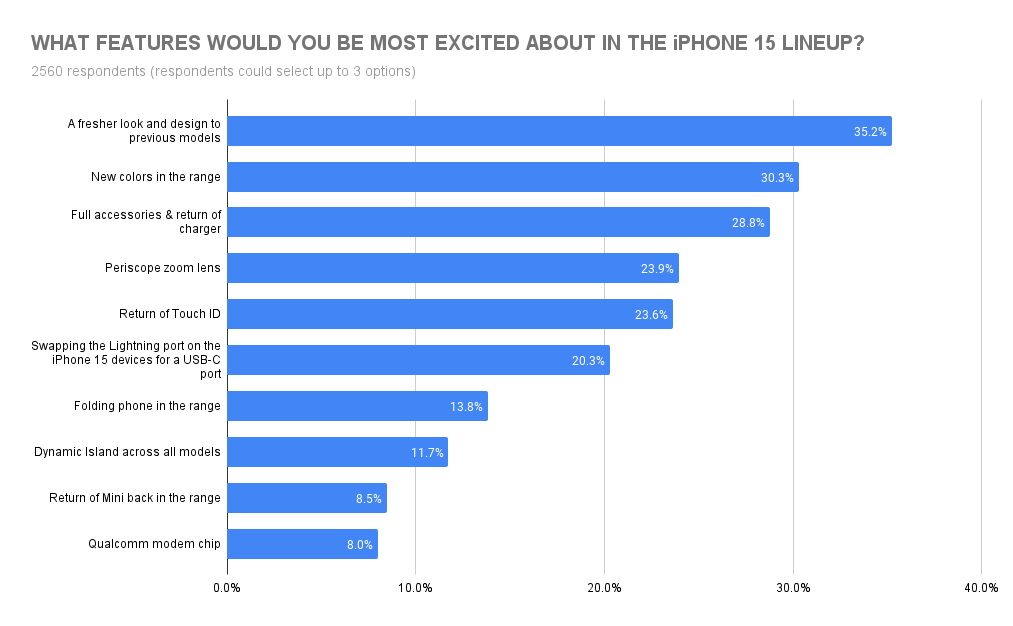 As we look ahead to the iPhone 15, it seems that aesthetics are at the forefront of those aforementioned patient iPhone owners' minds. 35.2% of those asked said they're eager to see a design overhaul, with a fresh look to the handset, while 30.3% want to see some new colors in the range.
28.8% see the need for a full accessory set and included charging brick to improve the iPhone 15, and 20.3% of those asked want the lightning port switching out for a more standardised USB-C.
Tech features are also important, with 23.9% wanting a periscope zoom lens, 23.6% longing for the return of Touch ID, 11.7% want a dynamic island across the entire range, and a surprising 8.0% would like to see their iPhone 15 brandishing a Qualcomm chip! 13.8% of iPhone 15 hopefuls are keen on the idea of a folding phone entering Apple's repertoire.
8.5% want to see the iPhone Mini making a return with the 15 range, which makes sense given that 6.6% of people who won't buy the 14 Plus are refusing because they prefer smaller phones, as mentioned in the previous question.
Lonely This Christmas, No iPhone to Hold
So, can Apple stay ahead of the game as Christmas sets in amongst the worst cost-of-living crisis the world has ever seen? If it can't get more phones into the hands of consumers prior to Christmas Day, then it might see sales drop, as two in five Apple consumers won't buy into the Pro/Pro Max ranges thanks to the rumored five-week lead in time.
However, with people already looking ahead up to two years for their next upgrade, and 20% of people with positive views around the 14 Plus, it is clear that a lot of Apple fans are with the brand for the long game, and if Apple listens to its consumers, then the iPhone 15 could be a major success… and it is only ten months to wait.
Methodology
SellCell surveyed over 2500 US iPhone owners to understand their purchase intention for Apple products at Christmas, iPhone 14 upgrade intent, as well as gauging opinion on iPhone 14 Pro/Max lead-in times, the iPhone 14 Plus, and the iPhone 15. No personal details were recorded or stored during the collection of data.