Last updated November 29, 2023
Read our informative article to find out how many text messages are sent a day, which country sends the most text messages, and facts about the history of text messages.
This article will inform you about how many text messages are sent each day, globally, and by country.

It will also compare the number of SMS/MMS messages sent with the number of WhatsApp messages, Facebook Messenger messages, and Snapchat snaps.

You can find out who sent the first text messages, when they sent it, and what the first text message said.

The article will also give you general top statistics for text messages and associated messaging behaviour.
The aim of this article is to look at our habits when sending text messages, in particular how many text messages are sent per day. It will compare this to other timescales, such as how many text messages we send yearly, monthly, and per second. It will also offer factual information about the history of the text message, including how and when text messaging began.
If you want to find out information about mobile phone calls, read our First Mobile Phone Call 50th Anniversary article.
What Is a Text Message (SMS)?
A text message, or SMS (Short Message Service), is a short written message that we send from one mobile phone to another. SMS messages have a limit of 160 characters (although you can send multiple SMS at once, as part of one larger message) and are typically used for brief, informal communication. We send and receive SMS messages using a mobile network and require a mobile phone or smartphone, although you can find SMS services on the internet, too. SMS has become a popular form of communication due to its convenience and widespread availability.
Note that a text message (SMS) is different to an instant message (IMS) you might send between two iPhones using iMessage, for example, as we send these via a data network such as your home Wi-Fi or cellular data.
How Many Text Messages Are Sent a Day, Globally?
Despite the popularity of message services like WhatsApp, Facebook Messenger, and Snapchat, global mobile phone and smartphone owners send billions of text messages a day.
| | |
| --- | --- |
| Number of text messages sent per year | 8.4 trillion |
| Number of text messages sent per month | 690 billion |
| Number of text messages per day | 23 billion 1 |
| Number of text messages per hour | 958 million |
| Number of text messages per minute | 16 million |
| Number of text messages per second | 270 thousand |
Above data based on how many text messages sent per day…
As we can see from the above data, 23 billion text messages are sent a day, globally 1.
This translates to a whopping 8.4 trillion text messages sent per year or, at the other end of the spectrum, 270 thousand per second!
How Many Text Messages Are Sent, By Country?
Now, we will look at a breakdown of how many text messages are sent by major nations around the world.
How Many Text Messages Are Sent a Day in the US?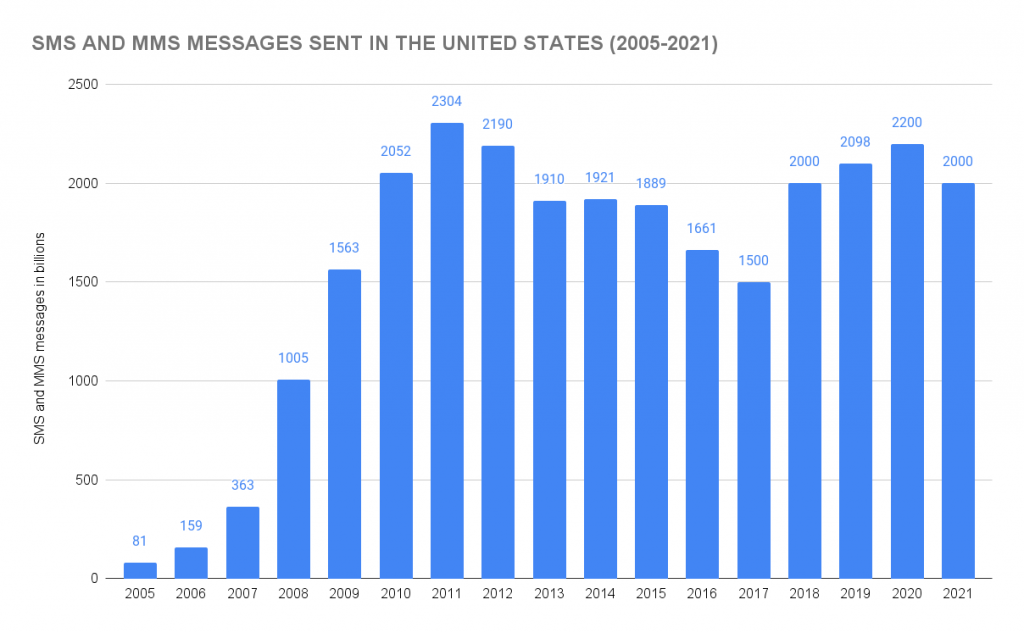 SMS AND MMS MESSAGES SENT IN THE UNITED STATES (2005-2021)
SMS and MMS messages in billions
2005
81
2006
159
2007
363
2008
1005
2009
1563
2010
2052
2011
2304
2012
2190
2013
1910
2014
1921
2015
1889
2016
1661
2017
1500
2018
2000
2019
2098
2020
2200
2021
2000
In 2005, the US sent a total of 81 billion text messages 6, which equates to approximately 222 million texts sent every day that year.
Between 2005-2021, 2011 saw the US send a record number of text messages—2.3 trillion—which is around 6.3 billion texts sent every day.
In 2021, US mobile and smartphone owners sent 2 trillion texts, which is a reduction on 2020's 2.2 trillion text messages.
How Many Text Messages Are Sent a Day in the UK?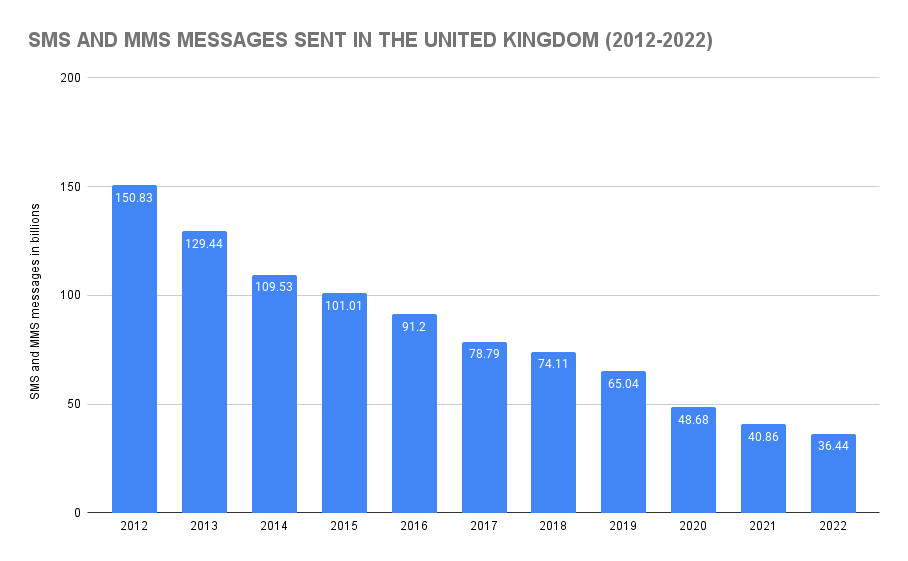 SMS AND MMS MESSAGES SENT IN THE UNITED KINGDOM (2012-2022)
SMS and MMS messages in billions
2012
150.83
2013
129.44
2014
109.53
2015
101.01
2016
91.2
2017
78.79
2018
74.11
2019
65.04
2020
48.68
2021
40.86
2022
36.44
The number of text messages sent in the UK has been in steady decline since 2012. In 2012, UK mobile and smartphone users sent a total of 150.83 billion text messages 7, which is equal to around 413 million text messages per day.
In 2013, this number dropped to 129.44 billion messages sent in a year, and by 2016 the yearly figure had dropped below the 100 billion mark, to 91.2 billion, which is around 249 million text messages per day.
By 2021, Brits are sending only 40.86 billion text messages a year, which equates to around 112 million SMS messages each day that year.
In 2022, this number reduced further, hitting 36.44 billion text messages per day.
This decline is likely due to the popularity of WhatsApp in the UK, which we will discuss later in this article.
How Many Text Messages Are Sent a Day in China?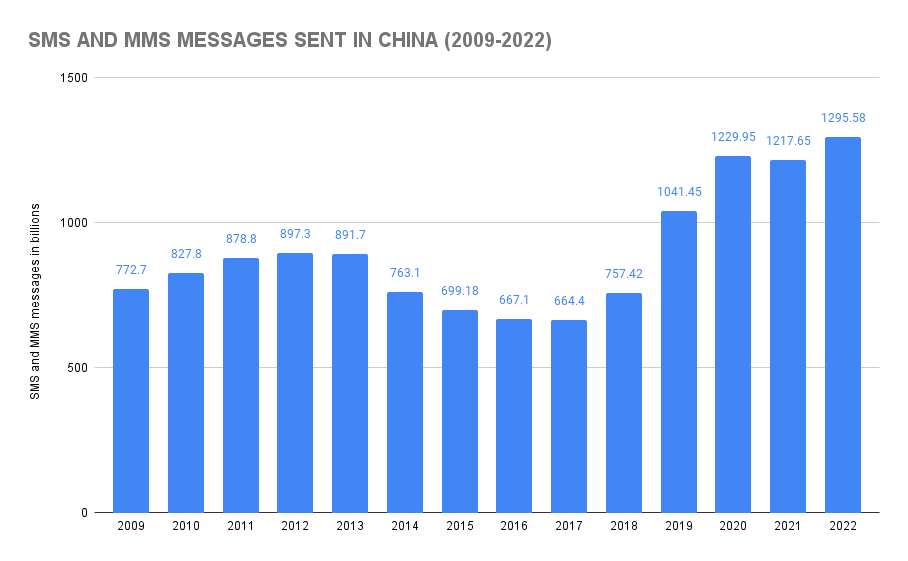 SMS AND MMS MESSAGES SENT IN CHINA (2009-2022)
SMS and MMS messages in billions
2009
772.7
2010
827.8
2011
878.8
2012
897.3
2013
891.7
2014
763.1
2015
699.18
2016
667.1
2017
664.4
2018
757.42
2019
1041.45
2020
1229.95
2021
1217.65
2022
1295.58
China follows in second place behind the US in terms of the number of text messages sent per day.
In 2009, Chinese mobile and smartphone owners sent 772.7 billion text messages 8, which is approximately 2.1 billion messages sent per day.
By 2012, that number increased to 897.3 billion text messages China had sent in that year, which is around 2.5 billion messages sent per day, on average.
Text message sending drops to 664.4 billion per year in 2017, but 2022 saw the most messages sent per day in China, with 1.295 trillion texts sent that year, or around 3.5 billion messages sent a day.
How Many Text Messages Are Sent a Day in Germany?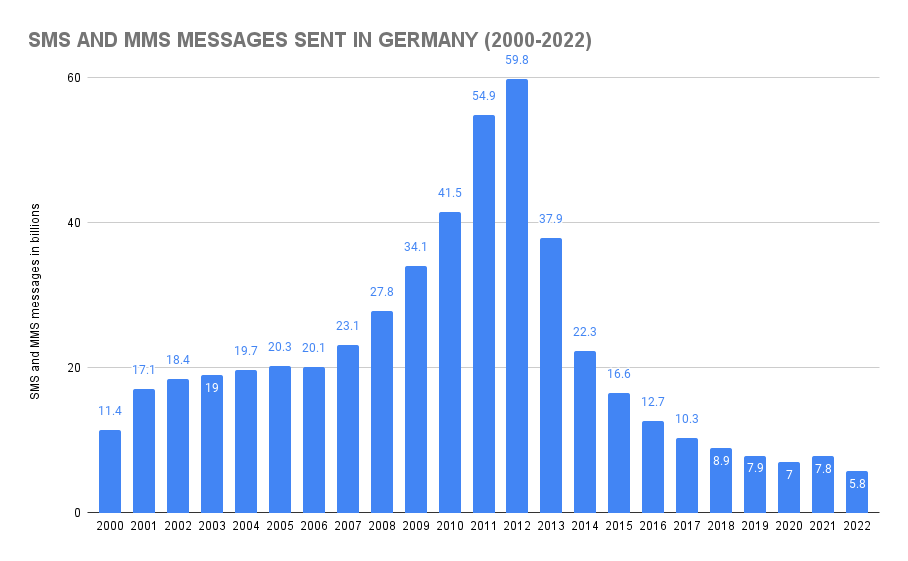 SMS AND MMS MESSAGES SENT IN GERMANY (2000-2022)
SMS and MMS messages in billions
2000
11.4
2001
17.1
2002
18.4
2003
19
2004
19.7
2005
20.3
2006
20.1
2007
23.1
2008
27.8
2009
34.1
2010
41.5
2011
54.9
2012
59.8
2013
37.9
2014
22.3
2015
16.6
2016
12.7
2017
10.3
2018
8.9
2019
7.9
2020
7
2021
7.8
2022
5.8
In 2000, Germany was sending 11.4 billion text messages a year 9, which is 31 million text messages per day.
By 2012, this figure had increased to 59.8 billion texts per year, equating to approximately 163 million texts messages sent on a daily basis.
Since then, as with the decline in SMS sending in the UK, this number has declined to 7 billion text messages (19 million texts a day) in 2020, with a slight uptick to 7.8 billion in 2021.
In 2022, however, the volume of sent text messages in Germany has fallen to its lowest yet; 5.8 billion.
How Many Text Messages Are Sent a Day in Spain?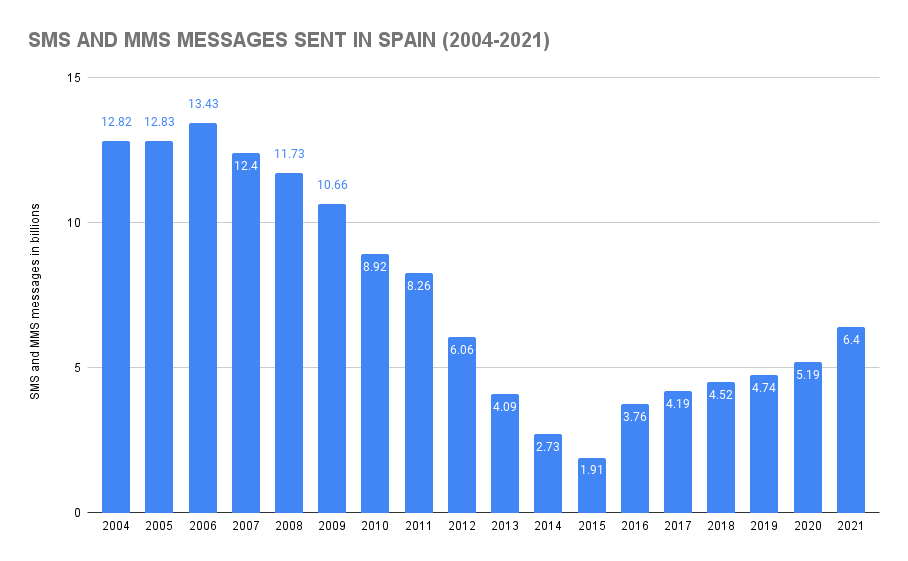 SMS AND MMS MESSAGES SENT IN SPAIN (2004-2021)
SMS and MMS messages in billions
2004
12.82
2005
12.83
2006
13.43
2007
12.4
2008
11.73
2009
10.66
2010
8.92
2011
8.26
2012
6.06
2013
4.09
2014
2.73
2015
1.91
2016
3.76
2017
4.19
2018
4.52
2019
4.74
2020
5.19
2021
6.4
Spain's text messaging habits saw a decline between 2004 to 2015 10, but a recovery in popularity between 2016 and 2021.
In 2004, Spain sent 12.82 billion SMS and MMS messages, which is roughly 35 million a day.
2006 saw Spain's highest volume of text messages sent, with the figure at 13.43 million, or around 37 million a day.
By 2015, text message sending in Spain had dropped to 1.91 billion in that year, with an increase year-on-year until 2021, which saw Spanish mobile and smartphone owners sending 6.4 billion texts that year—17.5 million a day, on average.
How Many Text Messages Are Sent a Day in France?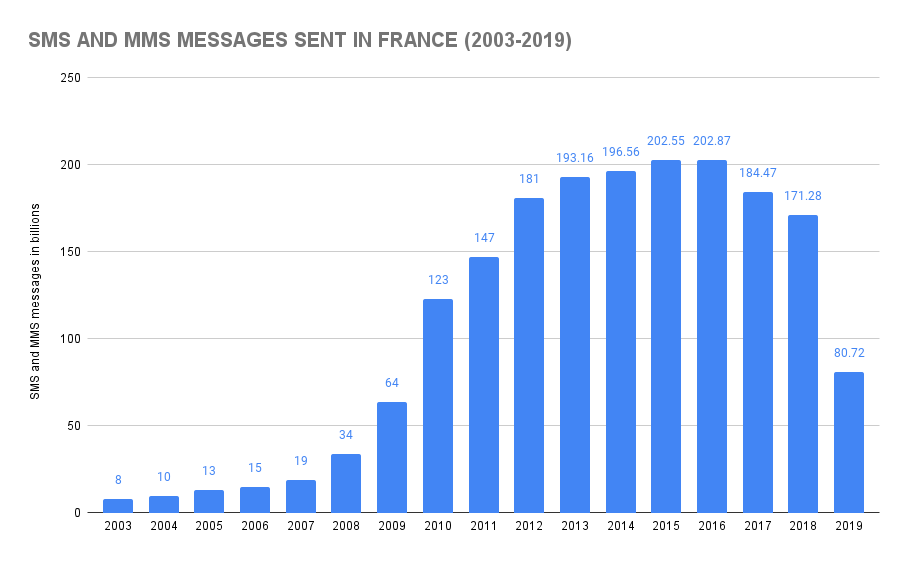 SMS AND MMS MESSAGES SENT IN FRANCE (2003-2019)
SMS and MMS messages in billions
2003
8
2004
10
2005
13
2006
15
2007
19
2008
34
2009
64
2010
123
2011
147
2012
181
2013
193.16
2014
196.56
2015
202.55
2016
202.87
2017
184.47
2018
171.28
2019
80.72
France has seen a steady increase in text message sending between 2003 and 2016 11.
In 2003, France sent 8 billion text messages over that year, which averages at 22 million a day.
By 2016, that number had grown significantly to 202.87 billion text messages sent—555 million texts a day for that year, approximately.
In 2019, France's SMS and MMS use had dropped back down to 80.72 billion over the course of the year, or 221 million a day.
How Many Text Messages Are Sent a Day in Italy?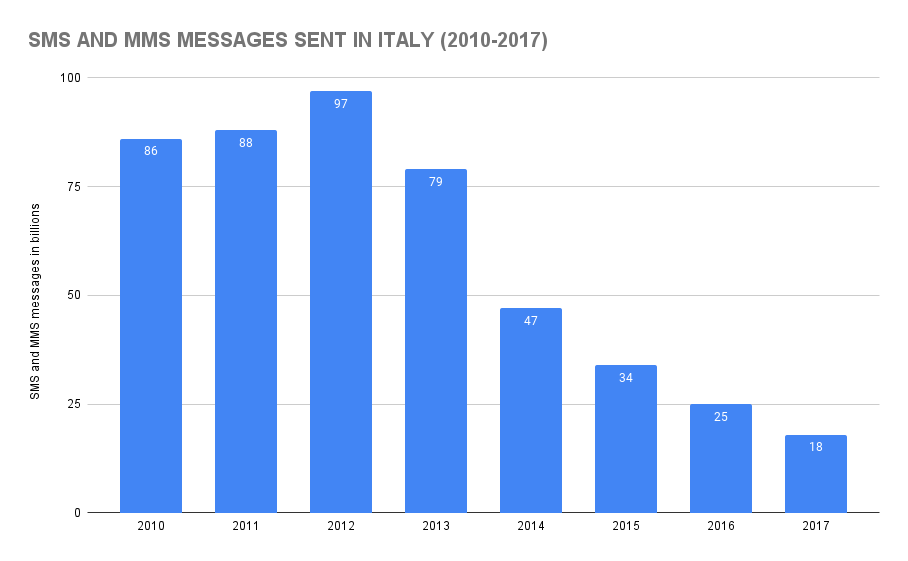 SMS AND MMS MESSAGES SENT IN ITALY (2010-2017)
SMS and MMS messages in billions
2010
86
2011
88
2012
97
2013
79
2014
47
2015
34
2016
25
2017
18
Italy's SMS sending habits are similar to those of the UK in terms of trends. It was highest in 2012, dropping significantly by 2017 12.
In 2010, Italy sent 86 billion text messages. This rose to 97 billion in 2012, which is around 265 million text messages sent each day.
By 2017, this figure has reduced to 18 billion text messages sent that year, which is 49 million a day, approximately.
How Many Text Messages Are Sent a Day in Canada?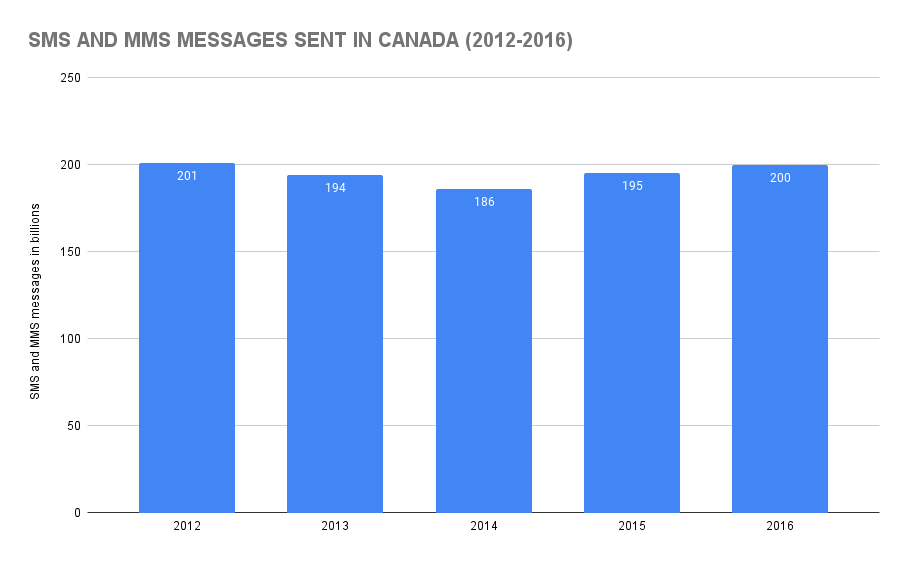 SMS AND MMS MESSAGES SENT IN CANADA (2012-2016)
SMS and MMS messages in billions
2012
201
2013
194
2014
186
2015
195
2016
200
Between 2012 and 2016, Canada's text message use stayed around the same level, with a slight dip in 2014 13.
2012 saw Canadians sending 201 billion text messages, which is an average of 550 million a day. This dropped to 186 billion in 2014.
By 2016, Canada was almost back at 2012 standards, sending 200 billion text messages that year.
How Many Text Messages Are Sent a Day in Turkey?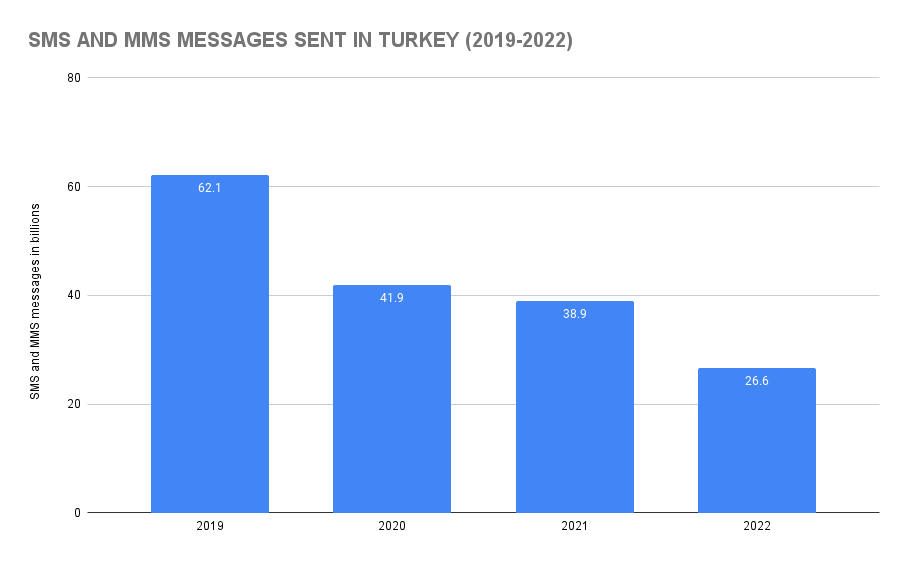 SMS AND MMS MESSAGES SENT IN TURKEY (2019-2022)
SMS and MMS messages in billions
2019
62.1
2020
41.9
2021
38.9
2022
26.6
Turkey's text message sending has been in decline since 2019, when Turks sent 62.1 billion text messages 14. This is around 170 million a day.
This dropped to 41.9 billion in 2020, and by 2021 SMS sending volume was 38.9 billion sent that year, or 106 million a day on average.
In 2022, text message volume fell dramatically again in Turkey. That year, Turks only sent 26.6 billion text messages.
How Frequently Do People Send or Receive Text Messages?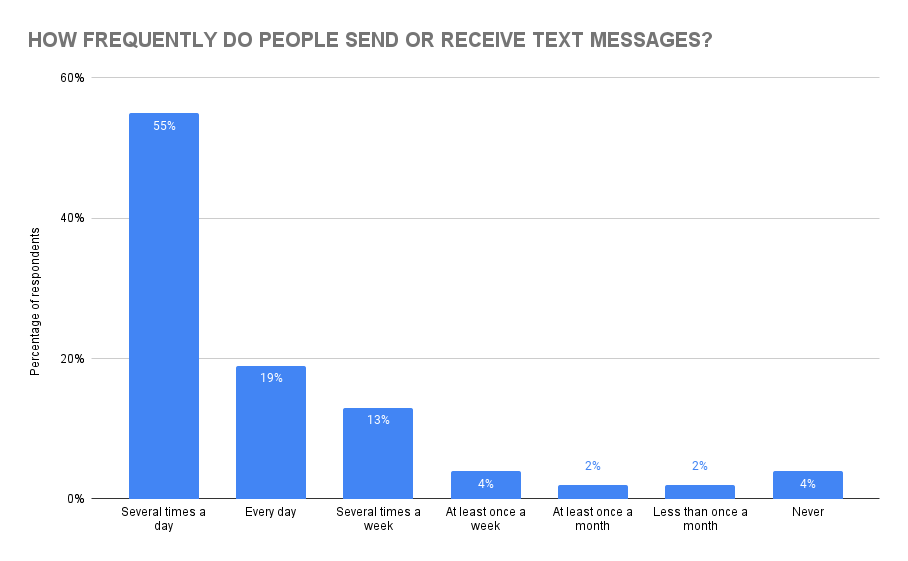 HOW FREQUENTLY DO PEOPLE SEND OR RECEIVE TEXT MESSAGES?
Percentage of respondents
Several times a day
55%
Every day
19%
Several times a week
13%
At least once a week
4%
At least once a month
2%
Less than once a month
2%
Never
4%
According to the above data, 55% of people state that they send and receive text messages several times per day 15.
19% of people text once a day, 13% several times a week, 4% at least once a week, 2% at least once a month, and 2% less than once a month.
4% of people never send a text. However, these may use an alternative, such as WhatsApp or Facebook Messenger.
How Quickly Do People Check Text Notifications?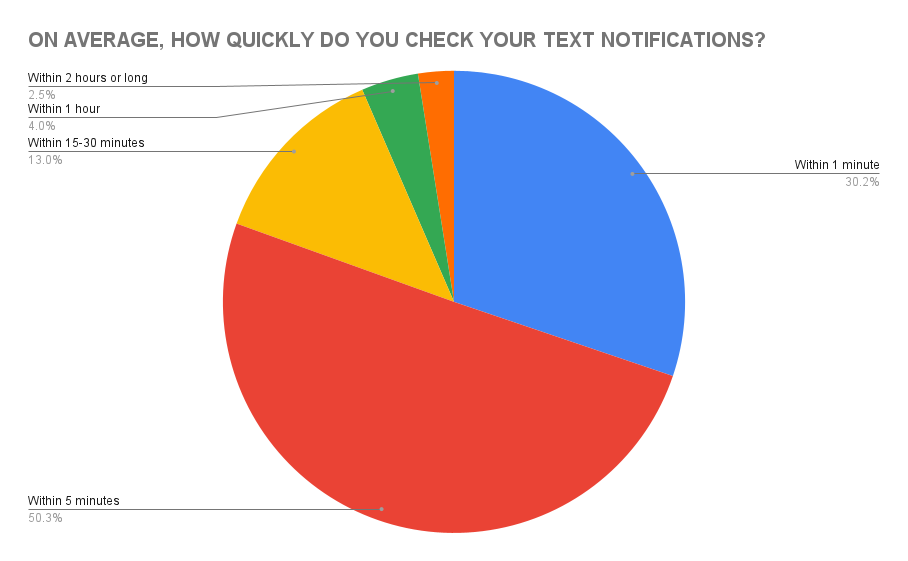 ON AVERAGE, HOW QUICKLY DO YOU CHECK YOUR TEXT NOTIFICATIONS?
Percentage of respondents
Within 1 minute
30.20%
Within 5 minutes
50.30%
Within 15-30 minutes
13.00%
Within 1 hour
4.00%
Within 2 hours or long
2.50%
The graph above shows us that the majority of people (50.3%) check their messages within five minutes of receiving a notification 16.
30.2% of people check their message less than a minute after receipt, 13.0% within 15-30 minutes, 4.0% within an hour, and 2.5% take over an hour.
Are More Messages Sent by Text, WhatsApp, Facebook Messenger, or Snapchat?
SMS & MMS
WhatsApp
Facebook
Messenger
Snapchat
Per Year
8.4 trillion
18.25 trillion
18.25 trillion
1.8 trillion
Per Month
690 billion
1.5 trillion
1.5 trillion
150 billion
Per Day
23 billion
50 billion
50 billion
5 billion
Per Hour
958 million
2.1 billion
2.1 billion
208 million
Per Minute
16 million
34.7 million
34.7 million
3.5 million
Per Second
270 thousand
578 thousand
578 thousand
2 thousand
As the table above illustrates, Facebook and WhatsApp are level pegging in terms of the number of messages sent via those services, and these hold the most at 50 billion messages sent per day, each 2. Note, though, that META owns both Facebook Messenger and WhatsApp, and Meta states that there is a 50/50 split between the two services, which is why the figures are the same.
In second place is SMS/MMS, where we see 23 billion text messages sent per day 1.
Snapchat has the lowest volume of the three, but that figure is still a healthy 5 billion snaps sent per day 17.
How Many Messages Are Sent on WhatsApp?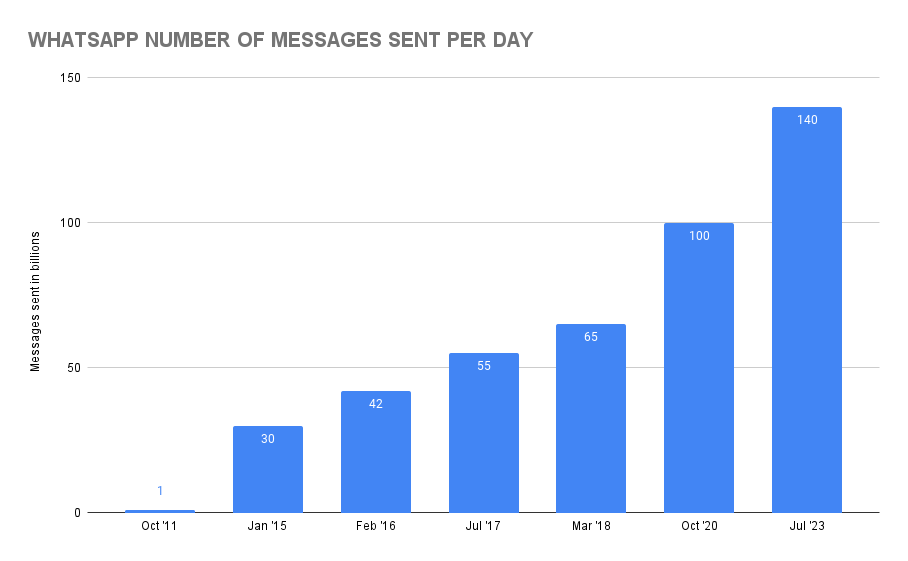 WHATSAPP NUMBER OF MESSAGES SENT PER DAY
Messages sent in billions
Oct '11
1
Jan '15
30
Feb '16
42
Jul '17
55
Mar '18
65
Oct '20
100
Jul '23
140
According to 2023 data, WhatsApp users send 140 billion messages every day 18.
This equates to 1620370 messages sent every second!
How Many Messages Are Sent on Facebook Messenger?
The data for Facebook Messenger is exactly the same as that of WhatsApp, as they are both Meta-owned brands and Meta combines the data for both, stating that they have a 50/50 split of the total number of messages sent across the two services 2.
So, this means Messenger also has 50 billion messages sent every day via its platform.
How Many Messages Are Sent on Snapchat?
Snapchat enjoys a high message volume, with its users sending 1.8 trillion a year. So, still a LOT of messages even if it is only a tenth of WhatsApp and Messenger 15.
This means Snapchatters are sending 5 billion messages every day.
Which Mobile Activities Are People Most Engaged With Throughout the Day?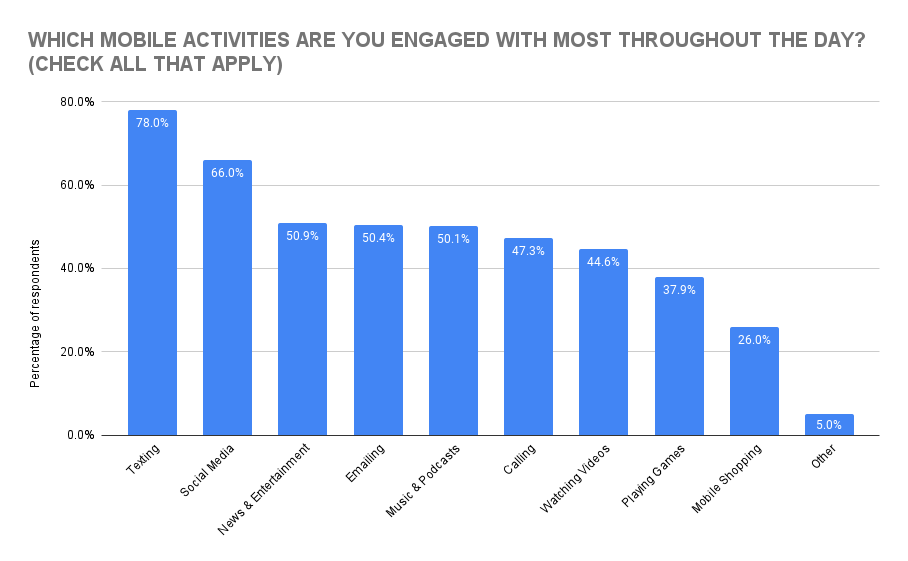 WHICH MOBILE ACTIVITIES ARE YOU ENGAGED WITH MOST THROUGHOUT THE DAY? (CHECK ALL THAT APPLY)
Percentage of respondents
Texting
78.0%
Social Media
66.0%
News & Entertainment
50.9%
Emailing
50.4%
Music & Podcasts
50.1%
Calling
47.3%
Watching Videos
44.6%
Playing Games
37.9%
Mobile Shopping
26.0%
Other
5.0%
According to a recent survey, 78.0% of us spend most of our time on our phones sending text messages 19.
66.0% of people engage with social media, 50.9% news and entertainment, 50.4% emailing, 50.1% music and podcasts, 47.3% spend most time calling, 44.6% watch videos, 37.9% play games, 26.0% shopping, and 5.0% do other things on their phone.
Who Is Targeted Most By Text Message Marketing?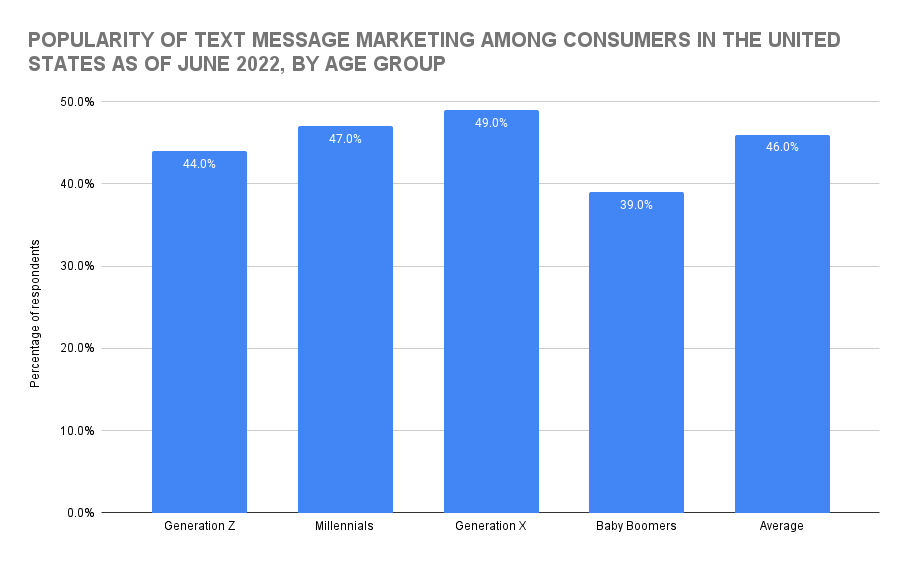 POPULARITY OF TEXT MESSAGE MARKETING AMONG CONSUMERS IN THE UNITED STATES AS OF JUNE 2022, BY AGE GROUP
Percentage of respondents
Generation Z
44.0%
Millennials
47.0%
Generation X
49.0%
Baby Boomers
39.0%
Average
46.0%
The most popular age group to market via text message is Generation X, with 49.0% 20.
Millennials come up a close second, with 47.0%, Gen Z takes 44.0%, and boomers account for 39.0%.
The History of Text Messaging
Text messaging didn't start with the mobile phone; we've been sending text based messages for almost 200 years. Let's look at how things have developed since we sent the first text-based message.
| | |
| --- | --- |
| 1837 | Inventors bring us the first electronic telegraph machine, which was capable of sending text-based messages. |
| 1844 | Samuel Morse sends the first long-distance telegram, which actually used Morse Code (which he invented), rather than actual letters and numbers. This is a series of dots and dashes representing letters of the alphabet and numerals, with users then able to convert the dots and dashes into a readable message. |
| 1894 | Guglielmo Marconi invents the radio transmitter, which led to radiotelephony (speaking via radio signal). |
| 1908 | Telegrams go global, with the ability to send messages to countries far away, even across oceans. Messaging rate at this point had reached 200 words a minute via telegram. |
| 1933 | Telex is brought to public attention in Germany, capable of sending messages via teleprinter, which the recipient could then read without converting any codes. |
| 1971 | The University of Hawaii successfully uses ultra-high frequency radio waves to send text message data. This same technology was later developed into wireless networks, which we obviously still use to this day, although they are more advanced, technologically. |
| 1984 | Finnish engineers Friedhelm Hillebrand and Bernard Ghillebaert develop the first SMS message as we know it today… |
| 1992 | …but it wasn't until 1992 that they actually sent the first SMS from a PC to a mobile phone via the UK Vodafone network. |
| 1993 | Brennan Hayden sends the first commercial text message. This coincided with the first mobile phone that could send and receive SMS, developed by Nokia. |
| 1995 | SMS-compliant smartphones receive the autofill feature, where the phone could predict what you were saying next, meaning less button pressing (yes, mobile phones in 1995 had physical buttons). |
| 1997 | Nokia releases the first mobile phone to come with a QWERTY keyboard, rather than having 3-4 letters on each numerical button. Previously, users would be required to press the "3" button twice in order to produce a letter E in a text message, for example. |
| 1999 | Cross-network SMS messaging is introduced, meaning you no longer only text message people on the same network as you. So someone using the Vodafone could now message someone on a different network like T-Mobile (as it later became known). |
| 2000 | Texting becomes a popular way to communicate, but it is still expensive and so mobile phone users are charged a fee for every text they send. At this point, the average number of texts a person sent each month was 35. |
| 2002 | SMS messaging sees huge growth, with 250 billion text messages sent in that year. |
| 2007 | SMS messaging becomes more popular than making a phone call, with 73% of mobile phone owners using the SMS service. |
| 2010 | The number of SMS messages sent reaches an all-time high of 6.1 trillion messages sent in one year. |
| 2013 | Smartphone owners begin to realise the potential of internet messaging services like WhatsApp and a new way to message friends and family starts to gain popularity, and is now a much more widespread than text messaging via SMS. |
Source 21
When Was the First Text Message Sent?
The first SMS text message to be sent to a mobile phone was in December 1992, and was sent via a computer to a mobile phone on the UK Vodafone network 5.
What Did the First Text Message Say?
The first SMS text message was sent in December 1992, so it makes sense that it simply read "Merry Christmas". It was not sent phone to phone, though, instead coming from a computer to a mobile phone 5.
Who Sent the First Text Message?
If we're talking the first SMS message rather than the first electronically sent text message (sent by Samuel Morse), then it was sent by Neil Papworth, in 1992.
Text Messaging Top Statistics 2023
Since the COVID pandemic, 61% of consumers have been sending more text messages than they normally would. This could be on account of people having vulnerable, elderly relatives who do not have a smartphone, only a mobile phone, and so can only text (as opposed to using services like WhatsApp and so on). 22
Do you open every text message you get? Data suggests that the average open rate for text messages still stands at 99%, despite an decrease in text message sending. 23
Do you respond when you have opened a text message? If so, you're part of the 45% response rate for SMS messages, again despite a decrease in using text messages for communication. 24
How long do you spend texting? The average US phone owner spends around 26 minutes a day sending text messages. 25
If you don't like speaking on the phone, then you make up part of the three-in-ten people who would give up calls in favor of texts. 26
78% of consumers wish they could send a business a text message, and over 50% of consumers wish companies would text them back. 27, 28

Do you like to get messages from brands? 75% of consumers like to receive text message marketing from brands once they have opted in to do so. 29
Stay safe out there; drivers cause one in every four car accidents by texting while driving. 30
80% of phone users admit to text-fighting or fexting. 60% also admit that fexting prolongs the argument and also has a negative effect on relationships with loved ones. 31
It takes only 30 seconds for 9.73% of texters to respond to a message and 30% only take one minute to respond to a text. 31
Text Messaging: The Not-So-Futuristic Form of Communication
So, now we know all about text messages, how many text messages we send across the whole world, and how text messaging has developed since its inception back in the 1800s.
Is text messaging going to remain a popular way to communicate, or will we find a whole new way to communicate with one another? Messaging has come on in leaps and bounds… perhaps we'll soon be using AI like ChatGPT and Google Bard to send each other complex and detailed messages!
Sources