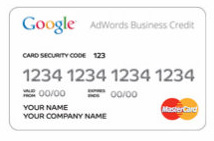 That's right guys and girls, new for the United States and the United Kingdom, the Google AdWords Credit Card.
We first saw a pilot scheme last year in the US to test out the card, where a few small businesses were introduced to take part in the test phase. 74% of those businesses that took part in the pilot are reported to still be using the card now so it has a good success rate.
The cards are offered up via a partnership with Barclays Banking Group in the UK, and the Comenity Capital Bank in the US, and are only for use with AdWords.
This Sunday Google will be rolling this card out in the UK with the US seeing it later in the month.
The AdWords Business Credit Card will help you keep your ads running consistently, with generous terms.
Those terms are:

A low, variable 11.9% APR Representative

An ample credit limit for AdWords

No annual fee

Minimum monthly payments

24/7 online support
Are Google starting to look into the Banking world for their next move? Maybe Google Bank?