Particularly in urban areas, traffic can play a huge role in our daily lives and may eat up hours of time each week. Knowing when to take a particular detour or alternate route can be one way to get around these headaches, but how can we know when there is a traffic jam or accident ahead? With mobile apps being developed for just about everything, it comes as no surprise that there are several traffic apps available that allow you to see camera footage of the highways and streets around you.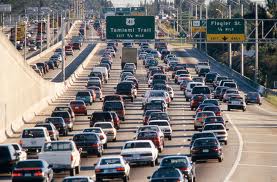 Below, we will discuss four of these apps and how they may be able to help you save time and frustration in future commutes.
Traffic Cameras Pro
For complete coverage of North America – including access to more than 4,500 different traffic cameras – Traffic Camera Pro is an excellent app for Android devices ($2.99). With landscape and portrait views available for over 70 cities, you can get a feeling for the road ahead without having to get snarled in traffic before you know there's a wreck or gridlock. You can search by city and create customized traffic camera lists for use when travelling to and from work, school or various venues around town. If you are unwilling to commit to the full version of the app just yet, a free version is also available to give you an idea of how it functions.
USA Traffic Cameras
This free app for Android displays live feeds from nearly 3,000 traffic cameras situated in approximately 60 American cities. You will be able to view traffic cameras either from a list sorted by city or through a Google-like map that can be zoomed in on to select the desired traffic camera. With custom settings available, you can program your home city and have a pre-determined view displayed each time the app is opened, making it perfect for minimal interaction with the phone when on the road.
Traffic Cameras + Toll and Travel
Sometimes, travelling for business or leisure will take us outside the country. With Traffic Cameras + Toll and Travel, you can be prepared for traffic on any continent in the world. With thousands of cameras available worldwide, you'll be able to monitor for any fender benders in Queensland or roadside construction delays in Paris. Available on iOS devices, this free app allows for pinch and zoom camera inspection, landscape and portrait viewing modes and includes a map for you to plot out all nearby traffic cameras.
Traffic View 2010
Another popular app among iOS users is Traffic View 2010, which provides camera access to over 100 cities, thanks to a sophisticated network that includes roughly 7,000 cameras. With relatively instant snapshots (2-5 seconds) streamed to your phone for any particular locale, you can be aware of what is going on up ahead without having to drive head-on into a traffic blunder. The app is free to download and will be appreciated by those who strive to save on fuel costs or want to be a traffic lawyer, while spending as little time as possible caught up in traffic.