Last updated April 12, 2019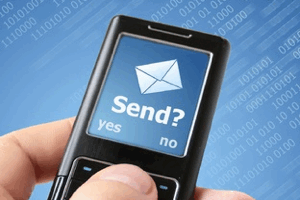 Reports of the death of texting on new and old cell phones appear to have been greatly exaggerated, if the results of a new survey are any indication. The Pew Research Center in the United States has released new data which shows that almost three quarters – around 73 per cent – of all cell phone owners in the US text, with almost a third – about 31 per cent – actually preferring texting over talking.
Growing competition from rival services such as Facebook Messenger and Apple's iMessage does not appear to be having the impact on cell phone texting that some predicted it would have, with young cell phone users aged between 18 and 24 sending, on average, no less than 109.5 messages on any given day, the equivalent of around 3200 texts per month. The average cell phone owner in that age demographic also typically receives around 50 text messages per day (1500 per month). The figure is twice that of those in the 25-34 age group, and 23 times that of those in the 65 or older demographic.
"Interoperability has a lot to do with it," notes Aaron Smith, a senior research specialist for the Pew Internet & American Life Project. "Anyone with a phone can text anyone else without worrying whether or not the person they are trying to reach is on the same service – as does the fact that you can text from pretty much any type of cell phone."