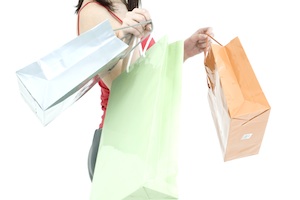 New and old cell phones are being used to track shoppers at malls in Temecula and Richmond in the United States this holiday season. The Short Pump Town Center mall in Richmond and the Promenade Temecula mall in southern California will start tracking the location of their customers within the mall via their cell phone signals, according to CNN.
The malls want to understand the shopping patterns of the typical customer and the data collected will let officials know which areas of the mall get less traffic, how much time people spend in certain stores and whether certain stores are good compliments for each other.
The malls will inform customers of the program and all data collected will be strictly anonymous. The tracking system goes by the name FootPath Technology and makes use of a series of antennas, which monitor each phone's unique identification number as the customer goes through the shopping mall. FootPath Technology cannot identify personal details to the cell phones without having permission to do so from wireless providers such as Sprint, AT&T and Verizon. Nor can the system capture any personal details sent from the cell phones such as photographs or text messages.
A British firm called Path Intelligence designed the system, which has already been rolled out in shopping malls in Australia and across Europe. JC Penney and Home Depot are considering making use of the technology but have not yet made any official announcements.