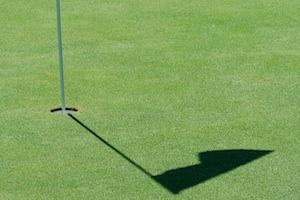 A golfer glaring at a news photographer who clicks a shutter during a swing is a pretty common occurrence, but when 10,000 to 40,000 people are standing on a course, with the great majority taking photographs with their new and old cell phones, the chances for distracting the golfer become astronomical. The gadgets are now being blamed for Phil Mickelson withdrawing from a tournament after the huge gallery that followed the marquee matchup of him, Bubba Watson, and Rickie Fowler in the first round of the Memorial yesterday.
Bubba Watson says that the continual clicking and snapping of cell phone camera shutters drove Mickelson to distraction. "It took Phil out of his game," Watson notes. "Phil's a great player and a great champion and it just took him out of his game. It's sad. It's sad that cell phones can make or break a championship."
Mickelson says he decided to withdraw from the championship and go home after a frustrating round due to fatigue after a recent trip to France and Italy to celebrate his wife Amy's 40th birthday. "There were a few phones out there," Fowler concedes. "There were a few times when we had to back off and reset. You could see Phil was a little fatigued and was having trouble blocking it out a bit."
Watson blames a PGA Tour rule that allows fans to use cell phones on the course, noting that, "it's just not fun playing" since the rule was introduced.