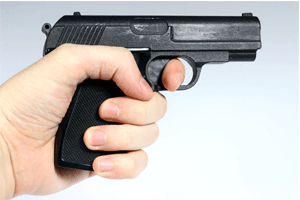 Mother in law jokes may never be the same following an incident in which a South Florida man found himself being shot at by his mother in law in an incident the man caught on his cell phone video. While the video did not capture images of the actual shooting, 39-year-old Salvatore Miglino can be heard screaming "I can't believe you did that! I can't believe you did that! What, are you crazy?!"
The mother in law from hell in question, 66 year old Cheryl Hepner, was arrested by police officers last Thursday and was being held without bail on the weekend. Police say the enraged woman took three shots at her estranged son in law on Wednesday, hitting him in his shoulder and rib cage. Miglino was treated and eventually released from hospital.
Hepner, however, is telling a different story, alleging that Miglino attacked her and he pulled the gun first. Authorities have yet to determine to whom the weapon actually belongs. Miglino visited Hepner's home to pick up his son in agreement with the court order that allows him to have custody of the child on a Wednesday evening. Miglino claims that Hepner met him outside and told him to come in because his father-in-law wanted to talk to him. When Miglino refused and asked her to bring out his son, he claims Hepner pulled the gun. "I caught it on video because I knew something stupid was going to happen," he says.