Last updated April 12, 2019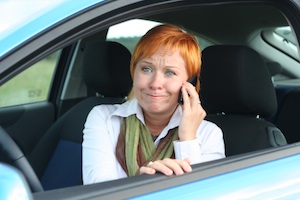 Six cities in Montana already ban drivers from talking or texting while operating a motor vehicle, and now, in the wake of the call for a nationwide ban on cell phone use while driving by the National Transportation Safety Board, Hamilton City Council is set to begin discussions as to whether it wishes to become the seventh.
Public discussions on the possibility of a cell phone ban on drivers within the city limits will be held the Council's Committee of the Whole, with the Committee set to meet next Tuesday, the 24th of January.
City councilman Al Mitchell raised the issue a couple of years ago, after having alarming encounters with motorists who were concentrating more on their new or old cell phones than they were their vehicles. "I've just had some close calls and it's very frustrating," Mitchell notes, adding that at the time the council shot down the notion of any such bans. "I brought it up and I was soundly defeated." Now that a number of cities in Montana have enacted such ordinances in their limits and NTSB Chairman Deborah AP Hersman has sounded what is effectively a national call to arms, Mitchell believes "It's time to bring it up again. We've had enquiries from citizens to bring it back on the agenda."
The first city in Montana to ban talking while driving was Billings, with Butte, Helena and Whitefish all enacting such ordinances in 2011.