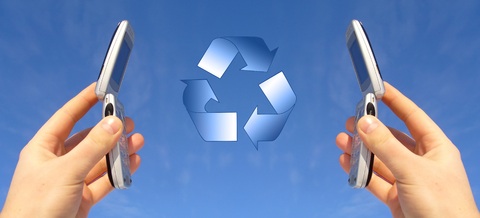 An event held at the Illinois State Fairgrounds at the weekend to allow the general public to hand in their old cell phones and other electrical equipment for recycling was a big success by any standards, ultimately filling up seven semi-tractor trailers. The event, which took place at the Orr Building on Saturday, was staged by the Sangamon County Health Department as a way for people to dispose of their used cell phones and other unwanted electrical goods free of charge and in an environmentally responsible manner.
Daniel Holland, an eighty year old man from Springfield, was one of many who took advantage of the event, recycling a computer, monitor, printer and a box full of various other electrical items. "Some of this stuff I've probably carried back and forth from the east coast to the west coast with the thought that I might use it some time," he admits. "I'm old enough now where you start thinking about getting some stuff out of your house so somebody else won't have to worry about it."
Vintage Tech Recyclers, a recycling company based out of Romeoville, took care of processing all the old cell phones and other electrical goods handed in for recycling. "The computer equipment and monitors will get reused as long as they can be rebuilt," notes supervisor James Larkin. "The rest will be torn down." Larkin adds that the company has a policy of allowing absolutely nothing that they are handed to end up as being landfill.