Last updated April 12, 2019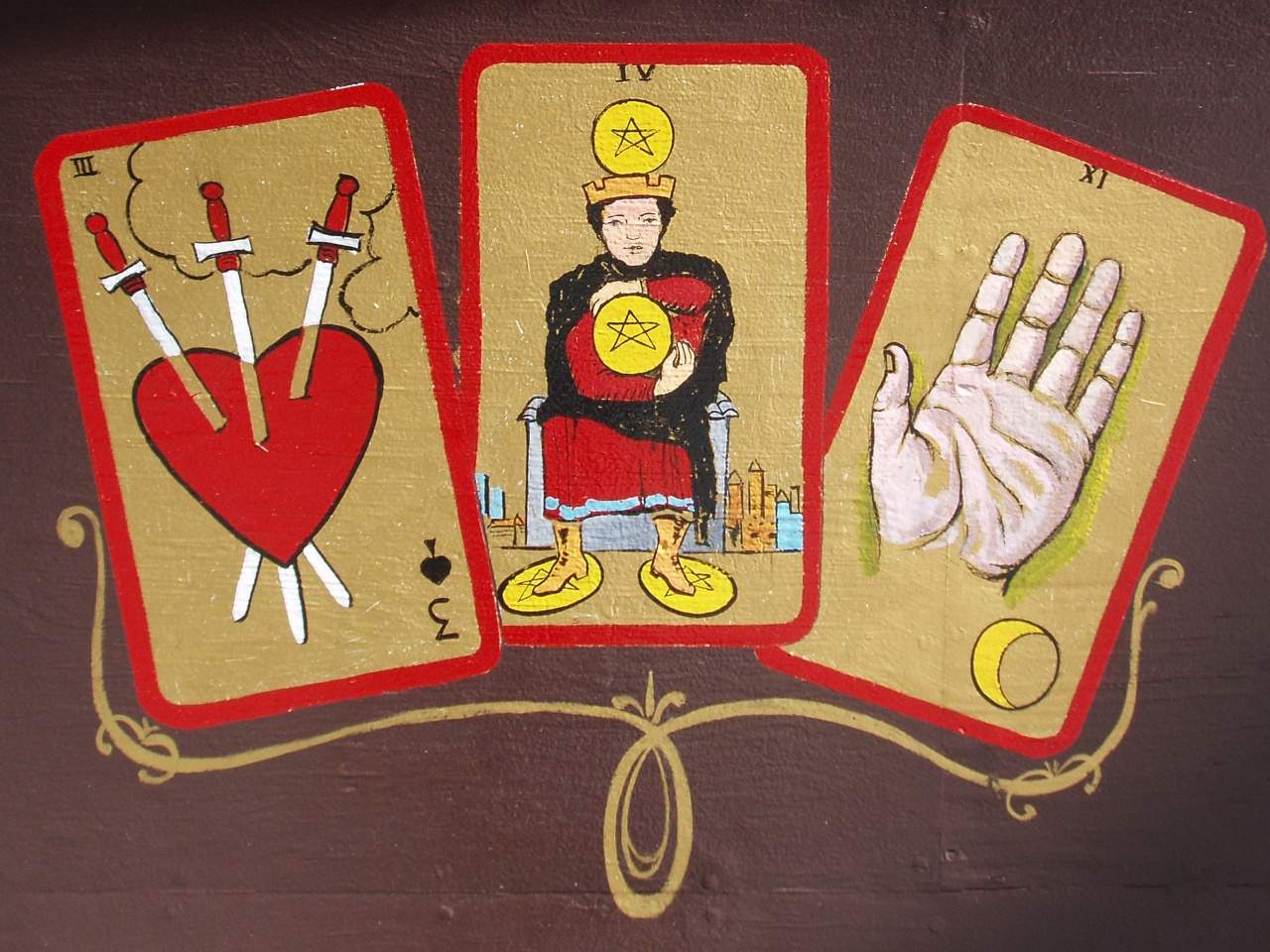 Looking for insight into your life? A glimpse into what the future may hold? Or just free entertainment? Search no further! These divination apps have lots to tell you if you just install them on your Android device. Find out what secrets could be hiding in Tarot decks, Chinese hexagrams, ancient alphabets or the lines on your palm. All apps are available at the Amazon Appstore. Please note that this review does not discuss compatibility or security issues. Check the description and reviews for each product before you download it.
---
Palm Reading Premium Lite
Price: Free (with credits), $2.99 for premium version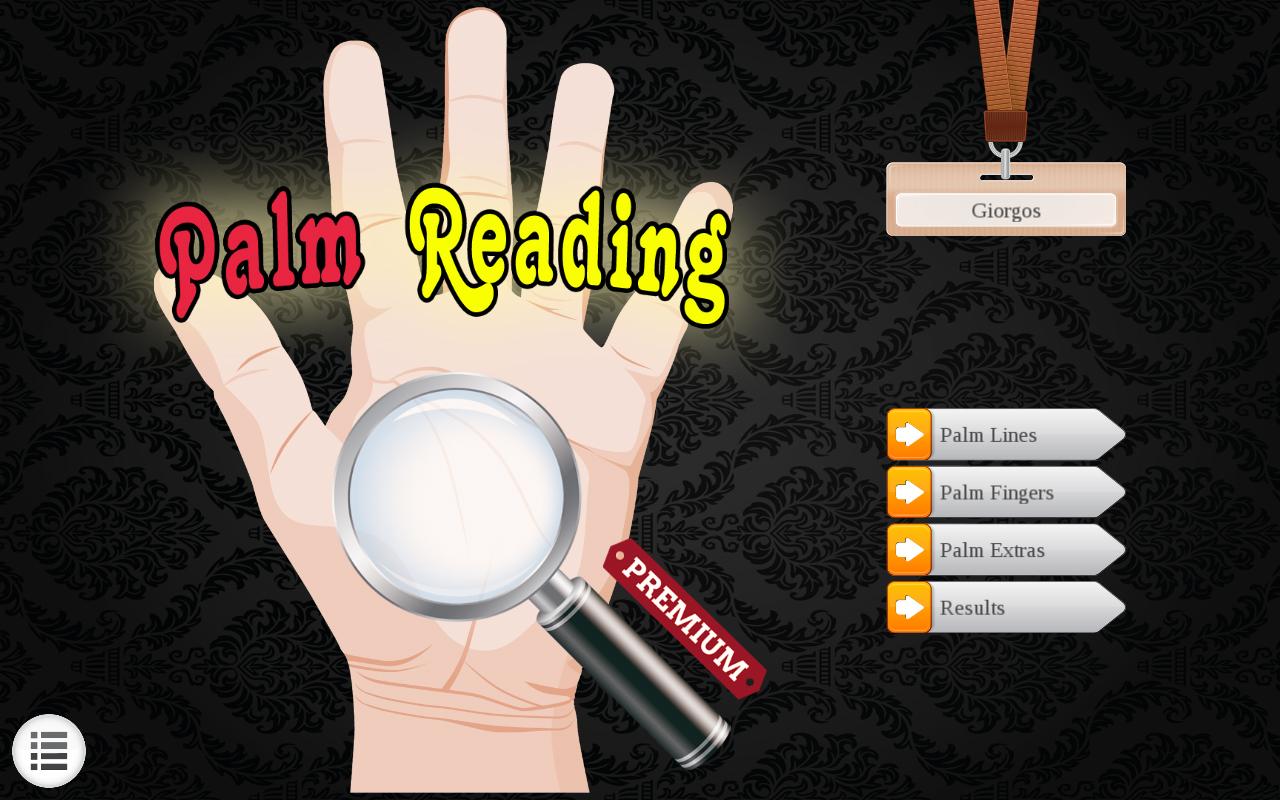 This is a clean, easy-to-use app suitable for beginners with no previous experience with chiromancy. To "read" your palm, Palm Reading Premium Lite will ask you to describe the lines on your palm as accurately as possible. You do this by choosing the pictures that most closely match the features of your hand. It takes several steps to go through each area, so a little patience and attention to detail would help. If you change your mind, you can go back to a previous step. Palm Reading Premium Lite examines palm lines, fingers, gifts, marks, hand shapes and compatibility.
Unfortunately, Palm Reading Premium Lite behaves more like a trial version than a truly free app. Like other "free" apps by the same developer, this one uses a credit system that limits use. You initially get 20 credits to spend on this app when you install it. When you've exhausted them, you will need to buy more credits or perform other steps that support the developer (e.g. viewing their other apps or liking their Facebook page) to earn free credits. Can't be bothered but still want your palm read? You can purchase the licensed version for $2.99 and never be bothered by credits again.
---
Palm Reading
Price: Free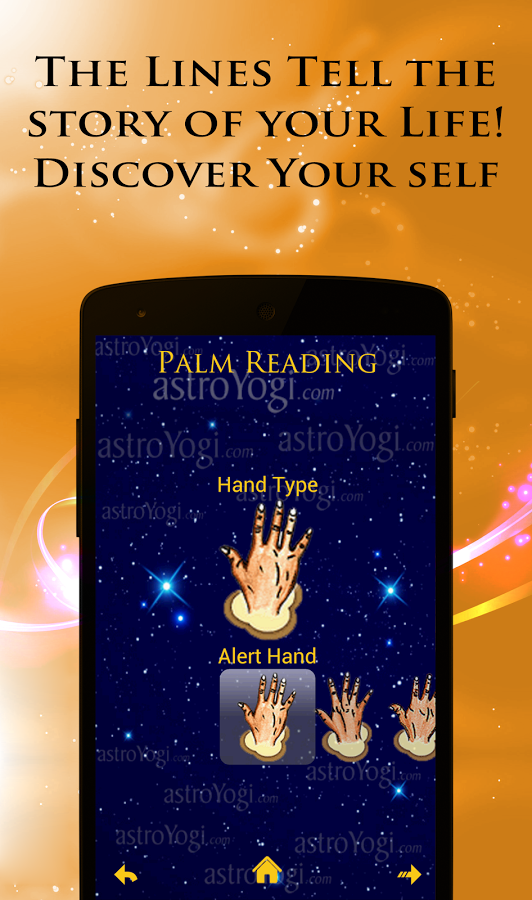 If you want a truly free palmistry app that doesn't use a credit system, give Palm Reading by Astroyogi a try. This app walks you through a basic palm reading process that covers your hand shape, major lines (head, heart, life, fate) and mounts. The hand drawings are rather crude and sketchy, so choosing the ones that best match your hand can be difficult. The app gives you a one-paragraph reading based on the choices you made. Palm Reading also comes with astrological horoscopes and Panchang (traditional Indian calendar) readings.
---
Tarot Readings HD
Price: Free, $3.99 for premium version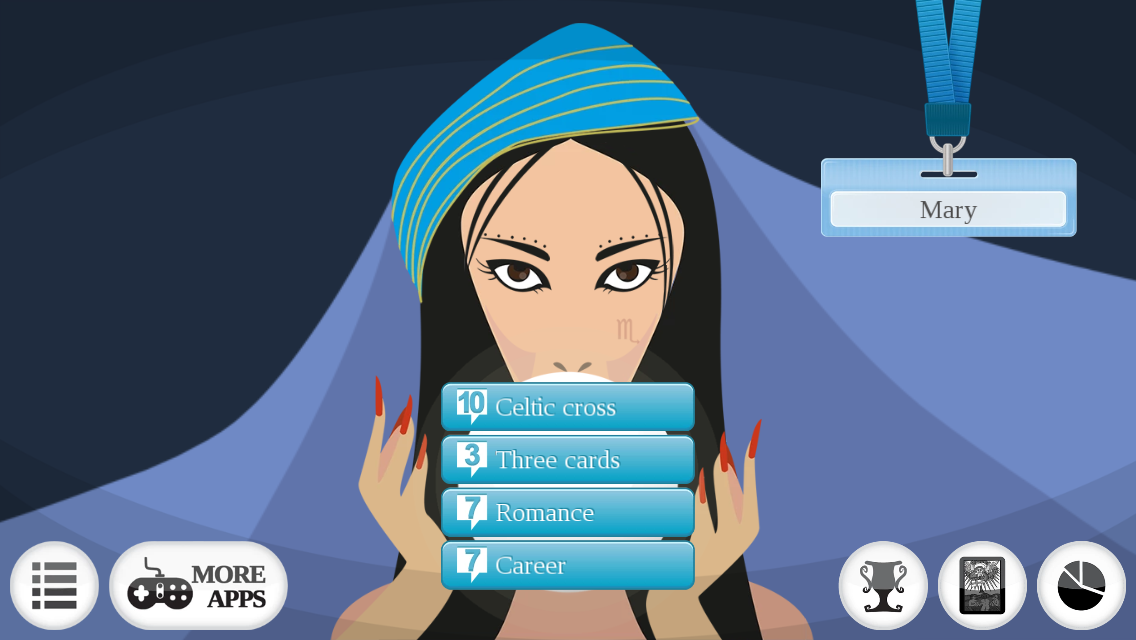 This beautifully made app promises you a Tarot experience that's as close to the real thing as an app can get. First, you type a question. Next, a virtual reader shuffles the deck (as many times as you like) and asks you to pick your cards. She then lays them out. You click each card to see an explanation of the card's symbolism and its placement in the spread. The reading will also tell you how strong a card is in the spread and if it is reversed or not. You can zoom in on each card to see the details or compare cards from the different decks (if you own the premium version). While the readings cannot directly address your question, you can use the explanations given to interpret the "answer" yourself. At the end of a reading, you can view a summary. Tarot Readings HD saves your readings so you can come back to them later.
Tarot Readings HD is designed for tablets and high-resolution phones. The layout and graphics are excellent. The free, ad-supported version of this app uses the Marseilles Tarot deck and a basic three-card spread. Upgrading to the full version gets you three additional spreads: the Celtic Cross, a romance spread and a career spread; and three more antique decks: the Noblet, Dodal and Conver. This app supports the following languages: English, French, German, Greek, Italian, Portuguese, Russian and Spanish.
NOTE: Some reviewers on the Amazon Appstore have reported problems upgrading to the full version. If you are sure you will like this program and that it's compatible with your device, you can skip the free version and purchase the premium one right away (listed separately at the Appstore).
---
Galaxy Tarot
Price: Free, $4.95 for premium version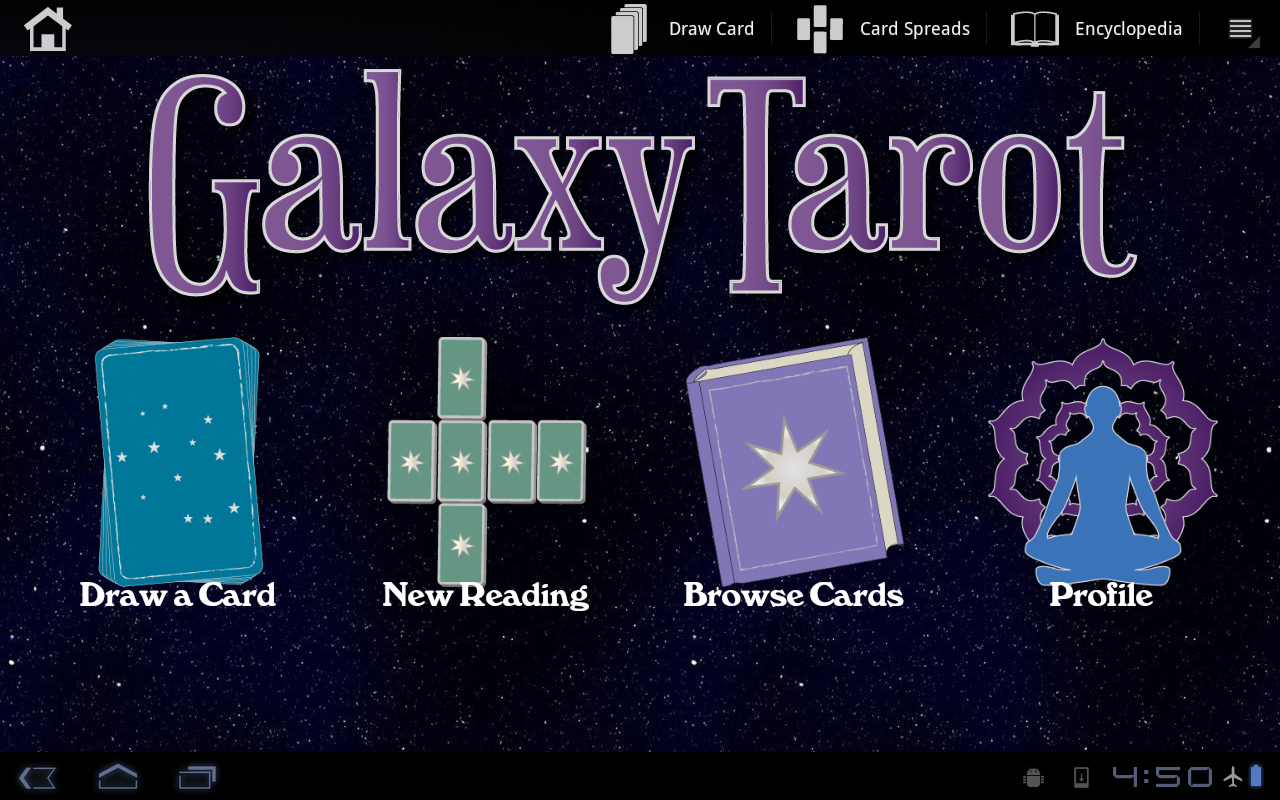 Galaxy Tarot is a wonderful tool to have if you are learning to interpret cards. While its graphics may not be as impressive as that of Tarot Reading HD, the content is richer. You can draw a single card, make a spread or consult a Tarot encyclopedia. When making a spread, you can shuffle and pick the cards yourself or let the app do it for you. Choose from three spreads: Three Cards, Celtic Cross and Relationship. For each card in a spread, Galaxy Tarot gives you the meaning of its position in the spread, keywords, interpretations (upright and reversed), and an explanation of the symbols in that card. The app can even tell you the overall tone of a reading based on the predominance of certain cards or suits. The pro version will get you more spreads as well as the ability to save readings, take notes and change themes.
The only shortcoming of this app is that it uses only the Rider-Waite deck. If you are not fond of this deck, you will need to look elsewhere for a Tarot program.
---
Galaxy Runes
Price: Free, $4.95 for premium version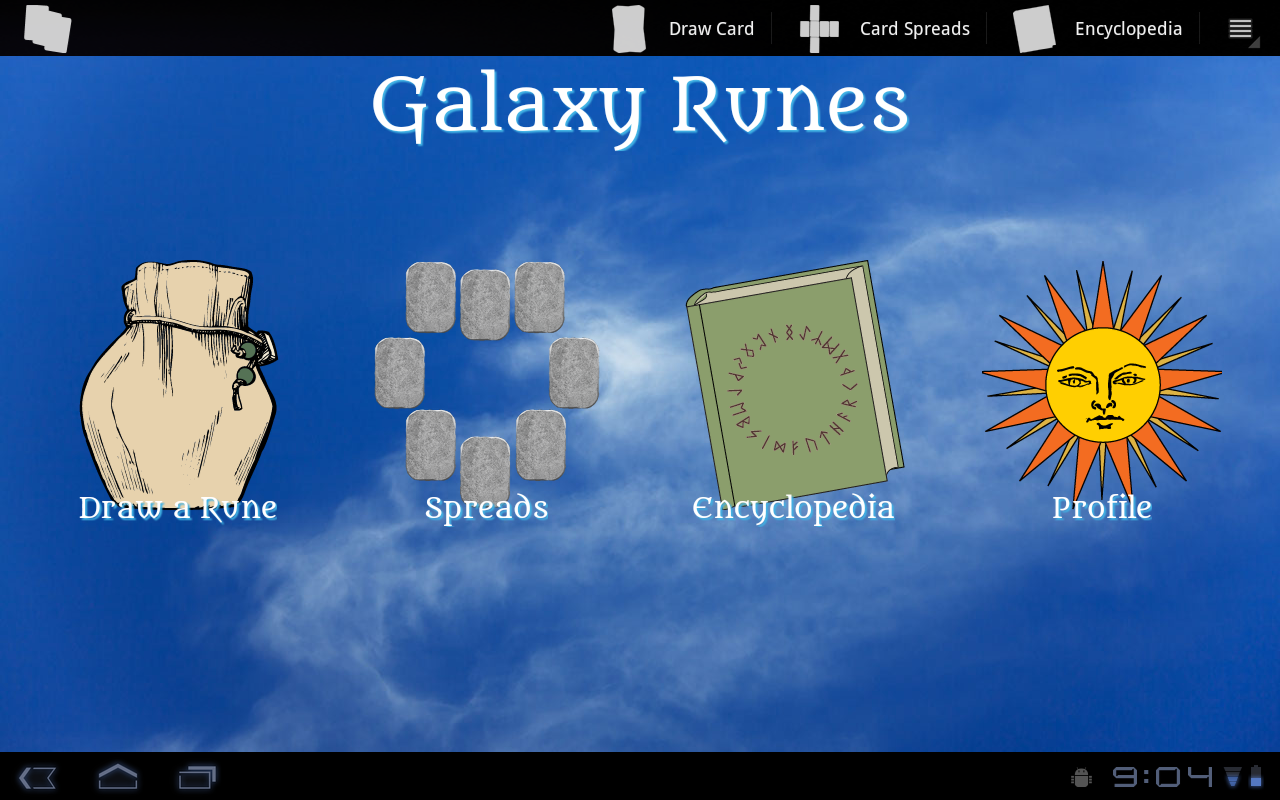 From the developer of Galaxy Tarot comes this rune-casting app. Galaxy Runes is set up much like its cartomancy sibling. You can cast a single rune, draw a three-rune spread or consult a rune encyclopedia. Each rune comes with keywords, a brief interpretation, symbols guide and even poetry. The poems are drawn from various sources such as Anglo-Saxon, Norweigan and Old Icelandic. It is unclear which rune alphabet the free version is based on. If you have difficulty accessing the three-card spread in portrait view, try flipping your device to landscape view. The premium version will let you save readings and give you access to more spreads, multiple rune sets, background themes and more.
---
Visionary I Ching
Price: Free, $6.99 for full version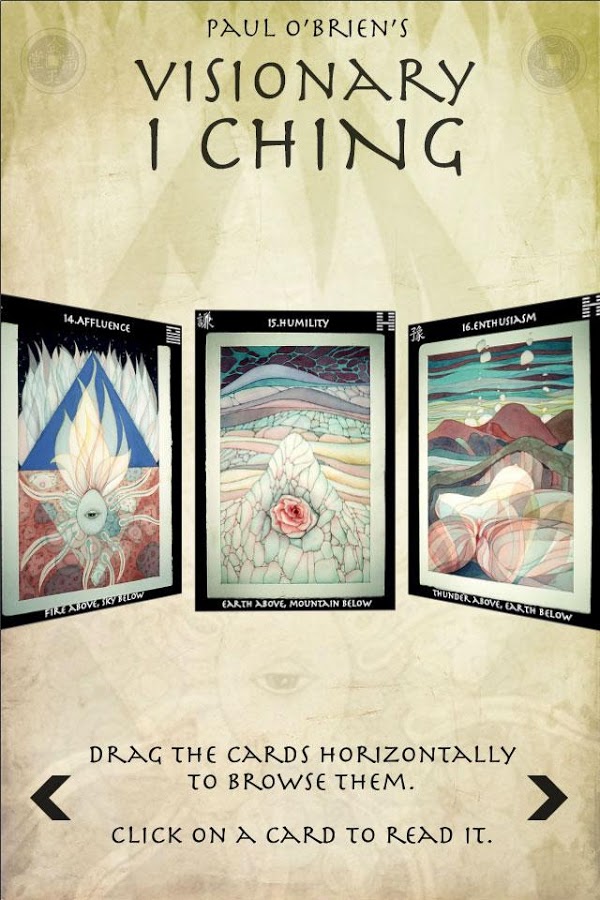 Visionary I Ching is based on the classic Chinese text known as the Book of Changes. As soon as this app opens on your screen, you will be in the mood for quiet contemplation. You can do a reading, look up a hexagram or write in a journal. To make an I Ching hexagram, you tap the screen six times. The resulting hexagram is represented by a painting similar to a Tarot card. Tap the card for a close up view and flip it to read its meaning. The interpretation for each hexagram is fairly lengthy at three or four paragraphs on average. But the free version only lets you draw a hexagram for "present" influences surrounding your reading. You must upgrade to the full version to unlock the "future" hexagrams as well as view the complete encyclopedia of 64 hexagrams.
---